This is an announcement for the next Mega Blogging Marathon that will happen during April 2017. It is going to be only Baking and we will be A to Z Baking around the world.
If you are landing here for the first time, just to update you, we are a group of Food bloggers doing a Blogging Marathon every month for 4 weeks doing 3 days each month. However, during April and September, we do 26 days of nonstop blogging, with Sundays off.
We have been doing the Mega Blogging Marathon since April 2013,
April 2013 was weekly themes.
September 2013 was ABC Cooking
April 2014 was Indian Food Odyssey
September 2014 was Around the world in 30 days
April 2015 was Fire up our Ovens
September 2015 was a Buffet On Table
April 2016 was a Journey through the Cuisines
September 2016 was Cooking Carnival!
April 2017 is special as its going to be the 75th Edition as well. We are meeting ahead in Feb to celebrate 75 months of doing Blogging Marathon.
So do join us in AtoZ Baking around the World!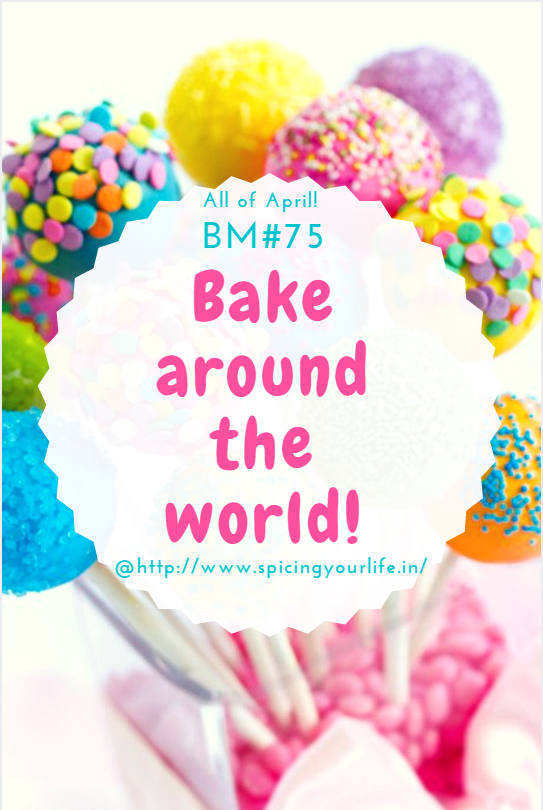 Guidelines for the Mega BM are below
We need to do A to Z by dish name and from different countries.
You can repeat countries twice
Both native names or English names for the dishes are fine.
Adjectives are not allowed to be used more than 2 times (you can use for Q, X, Z.)
It can be anything baked, sweets, savories, snacks, casseroles, cakes, breads etc.
Microwave baking is not allowed. All your bakes should be done in Convection Oven only.
Majority cooking time needs to be done in Oven, not the last 10 mins
For a single day, there can only be 3 posts.
***************************
Spread the news and come join us in the fun!
The last date of signing up for this BM is
15th Feb
and send in your signup request to
[email protected]