This was the first recipe I got done for the ABC Cooking theme, some many months ago. When I finished making this dish, it was simply decided that I was going to save this up for the letter J. Infact this was one single reason why I realized that I can't do themes per week.
I go big on nostalgic things and most times, even a small gesture ends up reminding me, something from past. Then imagine how big a trip down the memory lane, I went when it came to Jackfruit, as big as a Jackfruit is. There are many things that get associated with my growing up days as a high schooler. Jackfruit was one of those. I remember the many summers, we would get these fruits shipped home, and how I would be the person cutting it and taking it to our neighbors.
I love Kerala food and many summer vacations were spent in Kerala. Not that Jackfruit is not grown in other states, its just that I associate this with Kerala more. During the season, we used to get 3 -4 different variety of Jackfruit and each time we will find it hard to decide which one tastes better. Daddy's nature of job was such that for many years he used to travel to three of the southern states. So we used to accompany him during holidays.
Now coming back to the Jackfruit, gone are those days when we would get the whole fruit and cut it ourselves. We don't find time for such exercise and would rather buy these cut fruits off the shelf. Every time I do that I get sentimental and remember the olden days. However my love to this fruit has not gone down.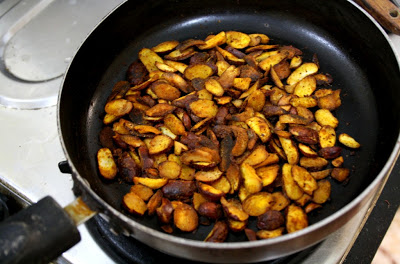 Infact when we visited my school friend, we were in for a surprised. His parents planned for this surprised and trust me, kids were so excited seeing so many fruits hanging down the tree. We went to meet my friend's new born twins and as expected my kids were excited beyond measures. Even now they keep asking about those little ones. Our evening visit was very fruitful as Aunty packed about 5 - 6 jackfruits, couple of them very tender for me to try a non veg gravy that Keralites are known to make. She revealed that she was told that raw jackfruit tastes like meat. So she was very eager for me to try this for hubby dear. we had a great time spending our evening at their place. Now I am sure along with mine, my kid's memories will be filled with the events of that memorable evening.
Back home, for nearly 3 -4 days, I didn't do much. The entire house was smelling so wonderful, especially in the eerie nights when I walked around, I had the smell from the jackfruits as my company. It smells heavenly and one must experience to know it.
Anyway finally I cut open two fruits, only to find just 2 peices in it. I had gifted two to my colleagues. One had ripe one numbering about 16 and the other colleague had made a gravy with it. I was all eager to cut the remaining fruits and those really lived up to expectation. My colleague did tell me that the fruits tasted out of the world and yes these were indeed so sweet that we couldn't get enough of them. Both the fruits yeilded about 30 - 32 in total. And we saved up the seeds.
Konda loves Jackfruit and even now asks me when we will visit my friends place again. And with so many seeds, I had to make my favorite snack. I surprised that I haven't shared this particular method and didn't waste time in showing Konda how I used to enjoy these seeds during my childhood.
So for J, it is Jackfruit Seed Chips
Enjoy some of the pictures I clicked during our visit.
Jackfruit Seed Chips
Ingredients Needed:
Jackfruit Seeds - 1 cup
Salt to taste
Red chili powder - 1 tsp
Oil - 1 - 2 tsp or Oil for deep frying
How to make the Jackfruit Seed chips
Wash and let the seeds dry for couple of days, until the outer skin starts to peel off.
Peel off the outer white skin and chop into thin julienne chips.
Now depending on how you want to fry your chips, you can either do pan frying with just 1 - 2 tsp of oil, or simply deep fry these chips and drain.
Once it's fried, drain to a kitchen towel, allow it to cool down for couple of mins.
Then sprinkle with salt and red chili powder
Serve right away.
We use the seeds in sambar, kurma and I also make it this way for chips.
J for Jackfruit Seed Chips