Vegetable Masala Toast is a spicy open toast from the Bangalore Iyengar Bakery Style. This toast has a spicy topping on a crisp toasted bread slice.
I don't remember when I read about this online, however, looks like this Bangalore Iyengar Bakery is popular for all sorts of baked and other snacks that the whole internet is raving about them.
I haven't personally tasted this open toast from the said bakery. However, going by the different sites that talk about this toast, it surely seems to be very popular. There are so many inspired dishes from this Bakery that it surely makes me want to visit that place sometime.
We haven't been to Bangalore in recent times. We used to visit during my growing up years. Later when the city developed beyond recognition, we never went. The last time we visited, we had taken Konda with us, while the boys were with their grandparents. We were able to spend only two days and it wasn't enough to go through the whole city.
This Vegetable Masala Toast is a crispy toast topped with spicy masala curry. The vegetable masala is very easy to make and this is an ideal breakfast to make when you are out of ideas on what to make.
We are doing BM#117, week 4 where I will be sharing my next three alphabets in the AtoZ Indian Breakfast dishes V, W, and X.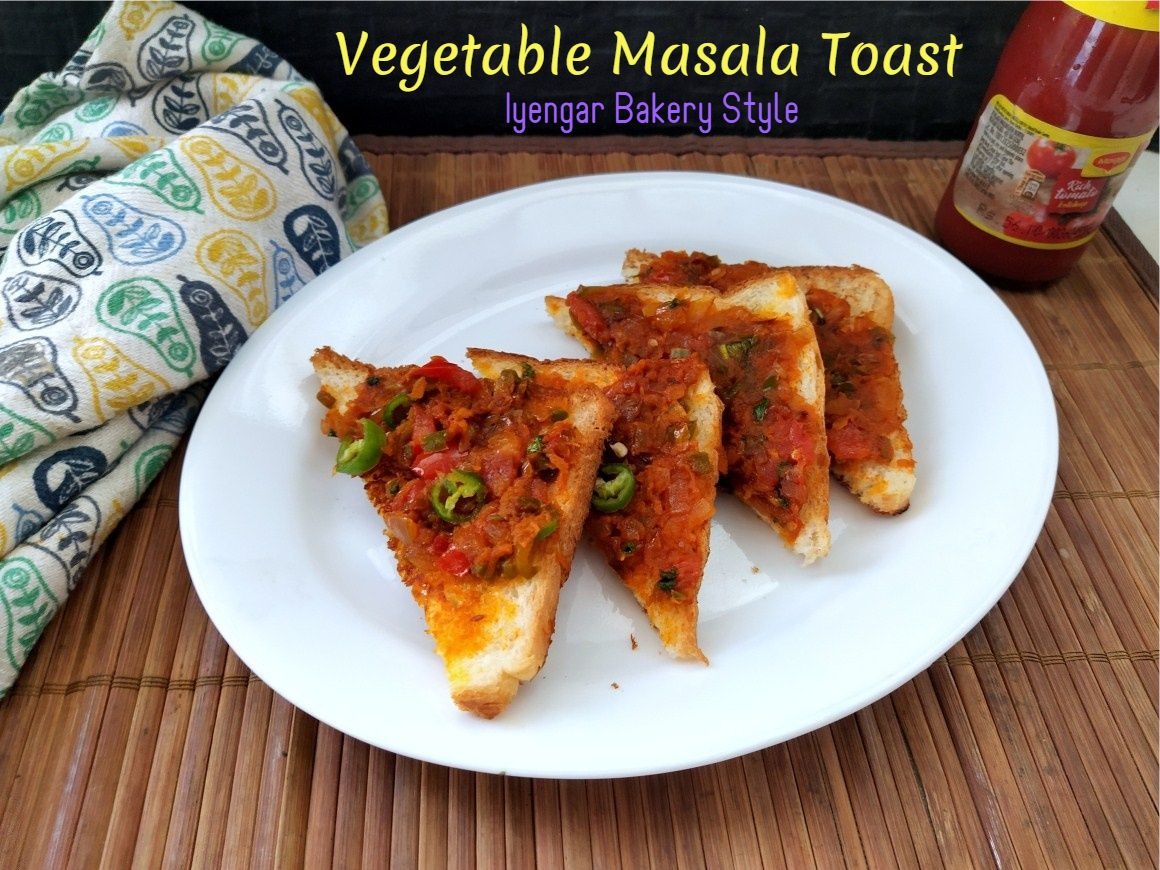 PIN This for Later!
Step By Step Pictures for making Vegetable Masala Toast

Vegetable Masala Toast ~ A to Z Indian Breakfast Dishes
Vegetable Masala Toast is a spicy open toast inspired by Bangalore Iyengar Bakery Style. This toast has a spicy topping on a crisp toasted bread slice.
Ingredients
4

nos

Bread Slices

1

tbsp

Butter for toasting the bread

1/4

cup

Carrots

grated

1/4

cup

Onions finely chopped

1/4

cup

Capsicum finely chopped

1/2

cup

Tomatoes finely chopped

2

nos

Green Chilies finely chopped

1

tsp

Red Chilli Powder

1/2

tsp

Chat Masala

optional

1/4

tsp

Cumin Seeds

1/4

tsp

Turmeric Powder

1/4

tsp

Cumin Powder

A Pinch

Sugar

2

tsp

Tomato Sauce

Salt to Taste

2

tsp

Cooking Oil

2 to 3

tbsp

Coriander Leaves for garnish
Instructions
Heat oil in a nonstick pan, add cumin seeds. When it is sauteed for a minute, add finely chopped onions, green chilies, cook until they are translucent.

Add chopped capsicum and fry for 2 mins. Now add all the spice powders and combine well.

Sprinkle a few drops of water and simmer. Add grated carrot and cook for 2 minutes.

Now add the finely chopped Tomatoes and mix, it need not get mushy.

Add the tomato sauce and cook for another two mins.

Adjust spice if required and add the coriander leaves.

Heat a tawa and apply the butter on both sides of the bread.

Toast the bread slices to crispy on both sides.

Once the bread is crisp, spread this masala all over, sprinkle finely chopped green chilies if you like.

Serve hot with tomato sauce.
Notes
Masala is very versatile, you can add anything you want like other vegetables, paneer, etc.
Instead of open toast, you can make a regular sandwich as well.