Thinking I would be able to make these simple chips that I had decided on, I went on to make the other two dishes. As always, I didn't get time to make these savory chips and finally thought if I wasn't able to handle wheat flour, then it's a shame. So finally kneaded the dough with Sambar powder and fried out these savory chips. These are just like the diamond cuts or the savory para that's made with maida.
Just as those made with maida like the
Salt diamond Cuts
, the wheat flour chips were addictive as well. For the final day of making with a single ingredient, I ended up making a savory chip with wheat flour. These can serve as finger food for your kid's party and you need not worry about giving them maida. The spice you can add to the flour is innumerable. I added sambar powder and salt and it tasted awesome. You can add green chili paste, ginger garlic paste or ajwain, cumin and so many more.
We call the shakarpara made with maida as
Diamond Cuts
, these are savory ones.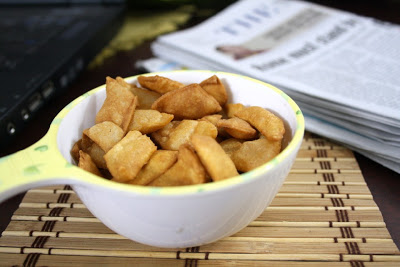 Instead of mixing in the spice powders, you can sprinkle them once the chips are fried as well. These make a really quick snack when you feel like snacking on something.
Wheat Flour Savory Chips
Ingredients Needed:
Wheat flour - 1 cup
Sambar Powder - 1/2 tsp
Salt to taste
Oil to fry
How to make the Chips
In a bowl, take the flour, sambar powder and salt. Slowly add water and knead to a soft dough.
Heat a kadai with oil.
Divide the dough into equal balls, dust and roll out into thin discs. Using a knife cut into diamond cuts. Pick on top with fork, else these will puff and will become soft.
Drop into the hot oil and fry in simmer till you get a cripsy chips.
Drain from fire and store in an air tight box.
Notes:
Since the dough tends to become soft, you got to fry these on low flame.
Other Wheat Flour Dishes this theme:
Wheat Flour Savoury Chips