I know some of you must have thought that you read the last of
our adventure in Ahmedabad
right. Well you are wrong, we still kept one in store to talk about our adventures, this is comes with a recipe, albeit a simple and short one. I was almost so reluctant to even make a post just for a simple relish like this.
But then the experiences I had with this Fresh Green Garlic and the subsequent adventure I had surely called for a special post. After all this is going to be the only recipe that would represent a season different from what I am used to. I have lived all my life in a place that boasts of three seasons, hot, hotter and hottest! Mind you, this has never actually lessen my love for my place. Yet I dream of a white day happening here. Yeah you think the heat must be getting to me.
It may not be far from truth, anyway coming back to the recipe, as I said this is a such a recipe that you might think I would do off memory. Well even for this I had to call up Vaishali and she sent me steps. That's ultimate, anyway I was looking into my BB couple of times, to be very sure I wasn't making a mistake. Now after seeing Vaishali post I am happy. I was so worried that I might have made a mistake. Of course after that I saw Rajani had made a
chutney
that can be called a chutney.
I served this on side with
Parotta
and
Paneer Butter Masala
. We found this little pungent for our taste. We hoped it would settle down by days. We also stuffed in rotis to make garlic parathas. I tried explaining to Athamma that this is purely a winter ingredients. Hailing from a very similar and living in a place that has no seasons, it was hard for her to understand. And these days there is nothing called seasons. Apples, if I remember right used to be available during December, now it's available year through, so many other such ingredients as well. So while I ponder and check on the other recipes that's going to come, check out the pictures.
This is the first picture I took after landing from Ahmedabad, with the new found knowledge of meddling with my DSLR and love how the picture came out, if I may say so myself. I am a person who calls a spade as spade, in this case my first pretty picture!
Green Garlic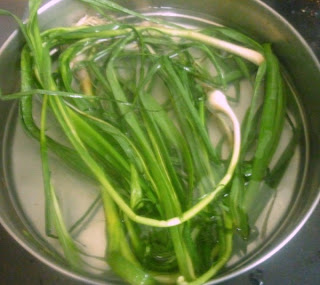 Wash and chop the green garlic finely. In a bowl, heat generous amount of ghee, add a tsp of green chili paste.
Then add salt, finely chopped green garlic. Cover with lid and let the flavours infuse and let out awesome aroma!
You can serve this on side with rotis and subjis.
Fresh Green Garlic Relish
Check out the Blogging Marathon page for the other Blogging Marathoners doing BM# 27
Fresh Green Garlic Relish