Kolkata Street Food showcases some of the popular street food you will find in Kolkata. These include Ghugni Chaat, Papri Chaat, Club Kachoris, and the famous Kesar Chai.
When I decided on making some of the most popular Kolkata Stree Food, I had a tough time deciding on what to make. Most of the popular food seems to revolve around nonveg and some of the vegetarian options also had eggs in it. The street food has influence from the North East cuisines, Nepal, and the other neighboring states.
While checking on the dishes, I remembered our vacation in Kolkata spent at my parents' house who lived there for two years. We went during Christmas time and the whole place was so alive!
Wherever you go, the places were crowded with people so busy with their work, jostling around with a festive mood. We had walked around the city and we could see the Chaat walas everywhere. However, my father didn't allow me to taste a dish. We were allowed to just look at them and walk around.
Imagine going through lanes and shops selling so many delicious chats and not tasting even a bit. However, knowing that my father would never allow such a thing, I never even missed eating those dishes. I was curious to see how each was made.
What is the famous street food of Kolkata?
Apart from the ever-popular sweets, dishes like Momos, Kati Roll, Dimer Devil, Jhalmuri, etc are very popularly available in the street. There were also dishes like Chhanar Jilipi, Telebhaja, Ghugni Chaat, and the most popular Jhalmuri.
Many times I have seen and read about the famous kathi roll and have tried my own version of it. Though with an omelet, it is very popular. As with other street food, for Kolkata to I decided I should pick a flatbread to make sure everybody had something to have for their breakfast.
I picked up Club Kachori, which is actually stuffed Urad Dal Pooris served with Aloo Kaddu Sabzi. The Papri Chat is very popular on the streets of Kolkata and I saw many videos to know how this differs from the other places.
How does Kolkata Style Papdi Chat differ from other versions:
Kolkata style Papri Chaat differs from Delhi style. Kolkata Papdi chat doesn't have sweet Curds added to it. Apart from it, the toppings have a white peas gravy similar to the Ghugni Chaat dish. Next, followed by a green chutney that has peanut also added, finally followed by Imli chutney. Finally topped with a very generous Sev. This was a total hit with my kids and even Chinnu loved it as it didn't have curds in it.
Ghugni Chaat is a gravy kind of dish of white peas and then topped with chaat ingredients. Finally to top it all you have the Kolkata famous Kesar Chai. As Kesar Chai seems to have a cult following as many videos talked about, I searched for a recipe and couldn't find it. I recreated seeing the making of it.
Since I haven't tasted myself I just went ahead seeing how the guy was making it. Peddu had this beverage and liked it. I am not a chai person, so it was fine with me.
Coming to the recipe of the day, it is going to be Club Kachori.
Kolkata Street Food
Starters: Ghugni Chaat, Kolkata Style Papri Chaat
Main: Urad Dal Poori (Club Kachori)
Side Dish: Aloo Kaddu Sabji
Accompaniments: Khajur Imli Chutney, Moongphali Hara Chutney, Boondi, Sev
Dessert: Kesar Chai in Kullars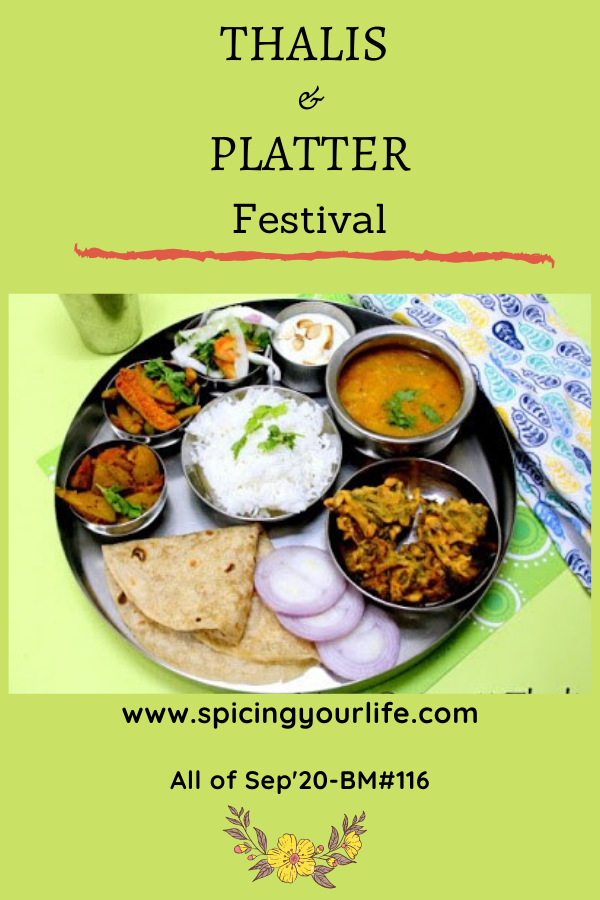 Check out the Blogging Marathon page for the other Blogging Marathoners doing BM#116
You are invited to the Inlinkz link party!