Delhi Street Food features some of the most popular street food available through different seasons and different tastes. One of the most favorite combo dishes is the Nagori Puri, Aloo Sabji, and Halwa.
When I planned on making Delhi Street food, I obviously took inspiration from our BM#75 Meet held in Delhi. Vaishali had planned for a whole day street food walk for us and all of us had enjoyed so much.
I have been trying one by one of the dishes we eat there and I loved my experience till now. When deciding on the menu, I checked out so many videos and of course, Vaishali's' site had so many good ones for me to try.
Talking about the popular street food found across Delhi, will surely the Bedmi Aloo platter, Nagori Halwa, both are which are served together with a combination.
Our account of Delhi Street Food Walk to explore different food!
Chawri Bazaar is a long street where you will get all the different food served in small joints. When we took the street walk, we started at 8 am stopping at all the shops to taste the food. We stopped at Shyam Sweets and ordered the Bedmi-aloo and nagori-halwa. Both the dishes were so delicious.
Read on my Delhi post to know what other adventures we had that day. I read about the Chache Di Hatti, where the traditional breakfast platter would include fresh hot puris, sweet and sour pumpkin sabzi, spicy potato curry, and raita
Then at Sardarji's shop, a plate of poori sabzi is accompanied with the sitaphal ka achar (pumpkin pickles), sliced onions, and methi ki chutney (fenugreek chutney). In winters, the pickles served are of gobhi and gajar (cauliflower and carrots). The pickles are also mild and light flavoured. Then there are the endless Kulcha wala serving kulcha with chana.
Coming back to my menu, if you are wondering why the street food is presented in the thali, well it was Konda's idea and since she was clicking I didn't want to say anything.
This was one thali that I started at 4.30 pm starting with the pakoras and slowly moving to the main dishes. However, Hubby dear and parents had the pakoras and were full. The sweets were eaten the next day. The pakoras also followed for the next day! These stories are for another day!
For today, it is going to be Nagori Puri.
Delhi Street Food
Drinks: Jal Jeera
Starters: Paneer Bread pakoda, Gobhi Ki Tikiya
Main: Nagori Puri, Bedmi Poori
Side Dish: Aloo Rasa
Accompaniments: Khajur Imli Chutney, Hara Chutney, Tomato Ketchup, Carrot Pickle
Dessert: Sooji Halwa & Shahi Tukda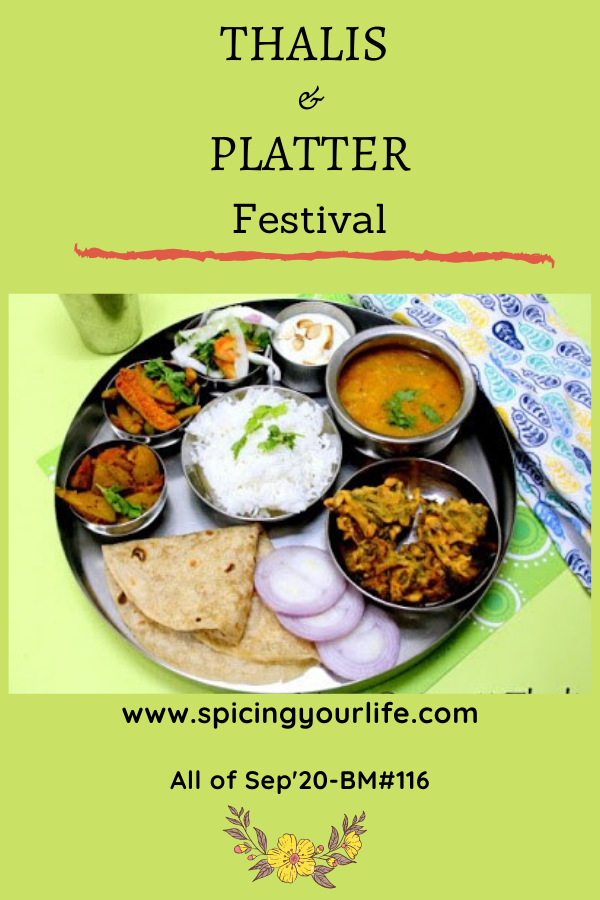 Check out the Blogging Marathon page for the other Blogging Marathoners doing BM#116
You are invited to the Inlinkz link party!