Upwas Puran Poli - A to Z Maharashtrian Sweets
We are beginning the final week of this Mega Marathon on a Journey through the cuisines. I had opted to make AtoZ on Maharashtrian Sweets. Today's alphabet is U. I had a choice of making Ukadiche Modak or Undre for Ganesh Chaturthi. However, when I checked on the recipe, it's the same as how we make the Kudumulu or Kozhukattai.
Along with this version, we also make the fried Modak as well. I have two versions of this delicious dumpling. So I decided there was no point in repeating it. Ganesh Chaturthi is an important festival for us too and we make an elaborate feast on the day, which includes special Ganesh Chaturthi dishes.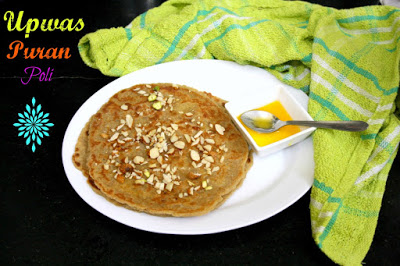 Without these options, it was really tough to crack U and then somebody suggested Upwas dishes, which essentially starts with Upwas in the dish name. So I decided I will check out for these dishes. One of these dishes suggested was Upvasacha sheera, where the sheera is made of chestnut flour or Rajgira flour. I wanted to check out other options, that's when I came across this recipe for Upwas Puran Poli.
It was such a delicious poli stuffed with aloo and the cover made with  Rajgira flour/amaranth flour. All the Vrat dishes are mostly prepared with Singhare ka atta (water chestnut flour), kuttu ka atta (buckwheat flour), rajgira ka atta (amaranth flour), sama ke chawal ka atta (Barnyard millet).


I shopped for these flours and now need to check out for other recipes to use these flours.
Anyway coming back to the upwas puran poli, this is much like your regular puran poli, only the flour and stuffing used differs. I made the poli in two ways, first by rolling it out, second by the regular method of patting the disc out. Both works out fine. The polis are so delicious that you can enjoy it as such. These also stay good as potato is used and cooked with ghee.

Upwas Puran Poli 
Ingredients Needed:
Potatoes- 2
Rajgira flour -  1 1/2 cup
Ghee - 1/2 cup
Sugar - 1/2 cup
Roasted Almond and Cashew nuts as per your choice
Cardamom Powder 1 tsp
Oil 2 tsp
How to make the Upwas Puran Poli
For the Stuffing
MW potatoes for 4 mins, peel and grate them and keep aside.
Heat 2 tsp of ghee in a nonstick pan, add grated potatoes, and saute on a medium flame for 10 minutes.
Add sugar, almond, cashew nuts, and cardamom powder and mix well. Keep aside.
For the Dough
Add oil to the rajgira flour and mix well and knead into a soft and smooth dough using little water. Let it rest for 10 mins
To make the stuffed polis
We can make the polis in two ways,
By rolling out
Divide dough into equal portions and roll into small poori.
Place a little portion of the stuffing at the center.
Bring the edges together towards the center and join all the edges and pinch them.
Sprinkle some flour and start rolling the dough and make a poli.
By patting it out
Take the stuffed ball, grease your palm with oil and on a plastic sheet, place the balls and pat it down to form a disc.
Once all the discs are made, cook them on tawa
On a heated tawa place poli and spread some ghee.
Once the one side gets browned, turned over and cook the other side.
Make all the puran polis this way.
Serve hot with ghee.
Recipe
Upwas Puran Poli | How to make Potato Puran Poli