For the fourth day of ABC International Cooking, learn to make a traditional dessert dish from Denmark for D. I had something else in mind until I saw this Danish Apple Cake. The other recipe was equally interesting, however it involved procuring ingredients that are not readily available in my pantry. As I said, this BM I have been very hard pressed for time and so many other things, that I decided to do simple dishes with what was mostly available at my place.
Apple, bread and cream are always stocked, so this sounded much more easy to make. This recipe is so easy, yet I had procrastinated doing it for so long, then I was not keeping well and almost twenty days passed off before I could do this.
On the day I made this, I was very stubborn that I would make this come what may. If the dish didn't get made, I was hoping to atleast get the apple sauce done. Somehow I managed to make and was mentally preparing how I was going to plate it. I have some small cute little glasses, only after cleaning, I remembered I have used them for E. During the last Mega BM, I had not cooked in order. However when we started posting, I realized I had used same bowls, napkins for letters back to back.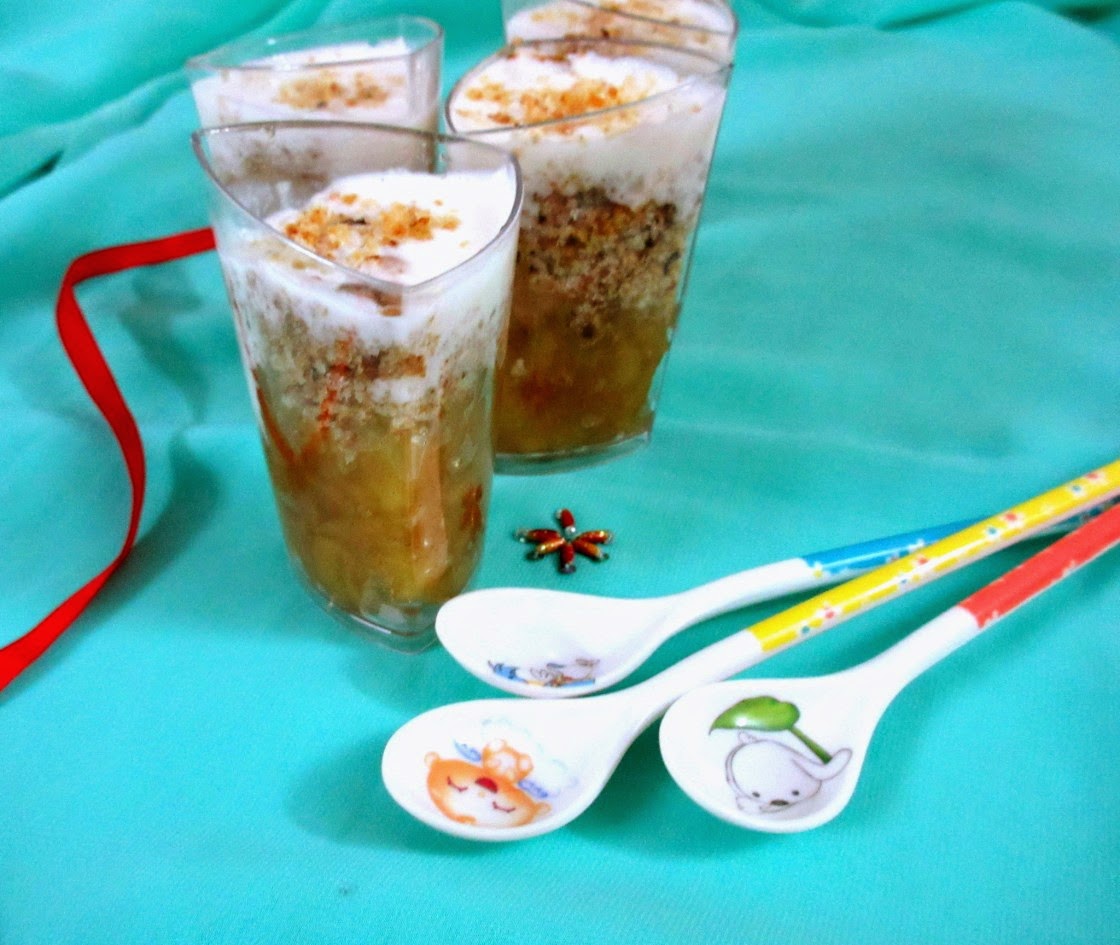 So this time I have been more cautious. Also Danish Apple Cake is served in an Ice Cream bowl. I don't have transparent glasses, only molded glasses, which doesn't show the layes properly and I wasn't keen on disturbing Amma at that time. I went ahead using the Short glasses that Veena gifted us and was so glad to use it.
I chilled it for a while and served hubby dear. He said the dessert was great, however I should have used a wider serving bowl. Konda ate it for her breakfast and was sulking that she couldn't take it for her friends. Parents had it for their lunch dessert. Amma called up before serving it, wanting to know what it was. I said it's from Denmark, called Apple Cake, though it's not exactly a cake. She called back within minutes, saying the dessert was fabulous and both of them enjoyed it so much.
I thought it was a good decision to plate it as small individual portions. It is quite rich and filling. I am not sure if boys would've liked it, however rest of the folks loved it. The original recipes calls for the apple to be pureed. However I simply chopped it fine, assuming it will melt and become paste. The pieces held their shape, yet were so soft to melt in the mouth.
Danish Apple Cake is Æblekage in Danish and is their traditional, classic dessert, having layers of apple puree and sweet, fried, bread crumbs that's topped with cream before serving. I read very late that they even garnish with grated chocolate. I wish I had done it as I was thinking just that when I was layering it and didn't want to add chocolate to everything. I was unconsciously thinking what the locals thought. Anyway next time, meanwhile you enjoy the apple cake.
Recipe adapted from celtnet org
Country : D for Denmark
Traditional Recipe
Cooking Time : 30 - 40 mins
Refrigeration time - 15 - 20 mins for quick serving.
Making Apple Sauce for Danish Apple Cake
Final Stages of Caramelised Apple Pieces
Caramelized Breadcrumbs for the Apple Cake
Layering the Apple Cake
Finally with whipped Cream
Danish Æblekage (Danish Apple Cake) 
Ingredients Needed
For the Apple sauce
Apples, peeled, cored and sliced - 2 medium / 2 cups
Water - 1 cup
Sugar - 2 tsp
For the Breadcrumbs
Bread slices - 4 nos / 1 cup Breadcrumbs
Sugar - 2 tsp
Unsalted Butter - 2 tsp
For the Whipped Cream
Whipping cream -2 tbsp
Sugar - 2 tsp
For topping as per your choice
Cut fruits, jelly, grated chocolate,
How to make the Danish Apple Cake
Cut, peel and core the apples, chop into fine pieces. In a non stick pan, add water and apple pieces. Bring to a simmer, cover and cook, stirring occasionally, until the apples have broken down to a thick paste.
Season to taste with granulated sugar and vanilla extract then set aside to cool.
I had bread, so pulsed it directly to get breadcrumbs. Use non stick pan, heat butter and add in the breadcrumbs.
Simmer and stir occasionally, the breadcrumbs becomes very crispy and tasty. Finally sprinkle in the sugar. The granules didn't melt that fast. And also make sure it doesn't lump up.
Just before serving, arrange layers of the apple purée and the sweet bread crumbs in a glass bowl, ensuring that you finish with a layer of the breadcrumb mix.
Whip the cream until stiff and use this to decorate the top of the dish. Garnish with fruit jelly and/or grated chocolate.
Notes:
This is best served chill, with a dose of grated chocolate
Æblekage | How to make Danish Apple Cake ~ D for Denmark