Since I do not have personal knowledge of the cuisine, I simply didn't want to explore or learn new things. I trusted Vaishali to have done all the research!..thank you Vaishali.
As I said I wanted to have a similar menu and cooked all the dishes that I was yet to make.
Awadhi Cuisine from Uttar Pradesh and is known for its rich food. The Cuisine is influenced by the Mughal cooking style and the cuisine has many similarities to Kashmir, Punjab, and Hyderabad. Awadhi Menu is very elaborate and quite rich in their dishes. They have the Kormas, Biryanis, their gravies are prepared with nuts and khoyas.
Awadhi Thali
I have put up a menu based on Vaishali's Awadhi Thaali.
For Drinks, I served a simple fruit juice. You could serve Jannat-e-Gulab
Snack
Hara Bhara Kebab
(Raw banana and veggies spiced to make a mouthwatering Kebab)
Chaat
Shakkargandhi ki Chaat
(Smoky, roasted spicy sweet potatoes served with a dash of lemon)
Curries / Daals
Sultani Daal
(Toor dal made rich with yogurt, cream and milk)

Stuffed Tomatoes
(scooped tomatoes, filled with cottage cheese, fried into a dumpling simmered into a rich gravy)
Mattar ka Nimona
(Blended farm fresh peas made into a curry with lentil dumplings)
Awadhi Dum Bhindi
(Okra, onions, and capsicum cooked with dum style..with live charcoal)

Rice
Nawabi Pulao
(rice cooked in milk, garnished with fried almonds, raisins and baked with saffron)
Roti/bread
Lachha Paratha
(Layered Indian flatbread)
Accompaniments
Boondi Anaar ka Raita
(Gram flour mini dumplings mixed with yogurt and served with red rubies)
Papad
Salad
Sweet
Halwa
I made a quick Sooji Halwa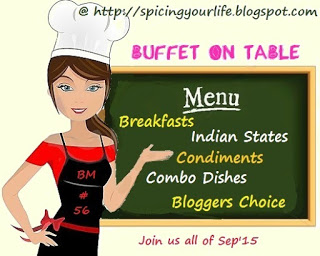 Check out the Blogging Marathon page for the other Blogging Marathoners doing BM# 56