We are starting the second week of BM#43 and I choose one of my most favourite food. Not only is this my favourite, it happens to be my kids as well. So when I had decided on this theme couple of months ago, I knew my kids will love these treats.
I made this a week back, knowing fully well that if I am being unprepared, nothing gets done on time and I won't' really be able to do justice to this theme. The time I made this I had a muscle cramp and couldn't walk for nuts. I was dreading how I was going to complete my Mega marathon cooking and my regular BM as well. When I wasn't teaching my boys, the only thing that was running in mind, were my recipes that I had short listed.
It was a weekend Sunday and after resting the whole day, I was feeling much better. So I needed no more invitation to make my dough. I had initially planned on making on the three snacks on the same day. However things didn't work out as I planned and I was able to bake only the pizza cups and had to refrigerate the other two.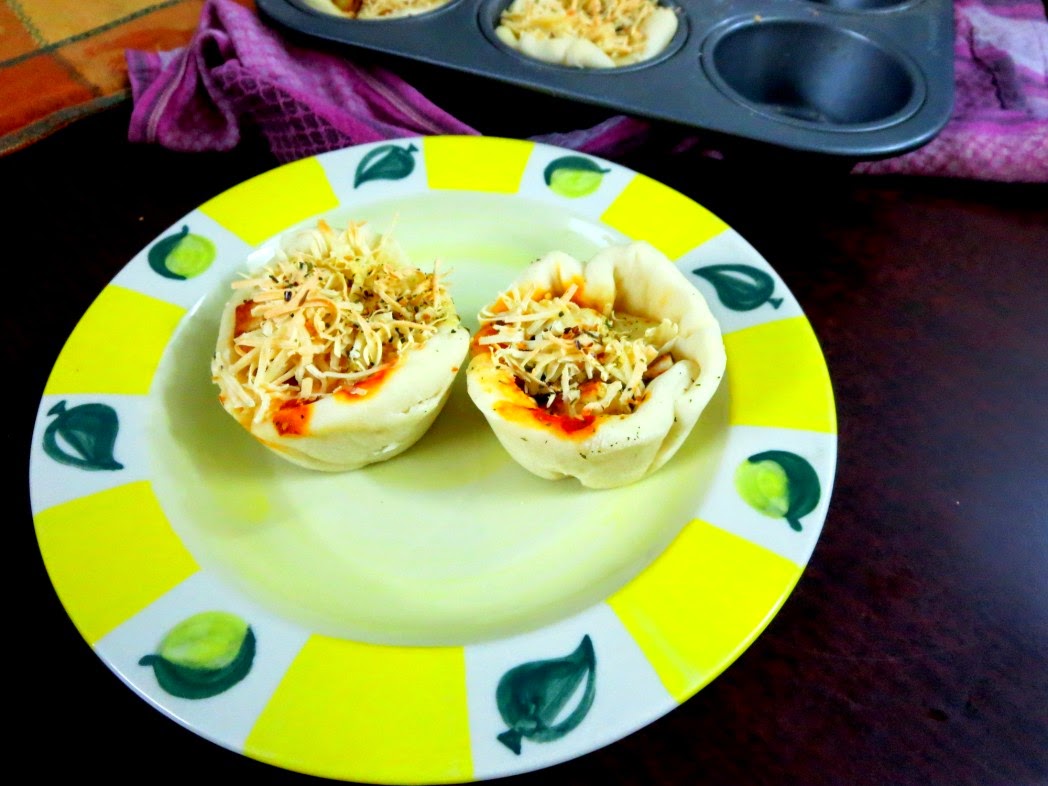 It infact worked out better as I was able to bake the snacks just before my kids could leave for their school and it was such an interesting thing for them to carry.
Coming to these pizza cups, needless to say it tasted awesome. this is almost similar to the Pizza deep crust muffins that I had made earlier. The difference is in the stuffing and the dough. Rest is all your own imagination depending on what your kids eat. My boys are yet to eat capsicum, though they would love paneer. So these cups had nicely roasted paneer pieces.
I also made a huge batch of pizza dough, hoping to make all in one shot. However you can either freeze the dough directly or you can make the snack and refrigerated it. Thaw at least 30 mins before baking or you could pop it in a preheated oven.
Pizza Dough Making
Making of Tomato Sauce for Pizza
Pizza Cups Stuffing:
Making of Pizza Cups
Pizza Cups | Pizza Cupcakes
Ingredients Needed:
For the Pizza Dough
All purpose flour / Maida - 4 cups
Salt - 1 tsp
Water for kneading
Thyme and Dried Oregano for blending
Olive Oil - 2 tbsp
For yeast Proofing
Dry Active Yeast - 2 tsp
Sugar - 1 tsp
Warm Water - 1 cup
Tomato Sauce for the Pizzas
Ripe tomato puree - 1 cup
Sweet n spicy Tomato sauce - 2 tbsp
Tomato sauce - 2 tbsp
Chili Flakes - 2 tsp (increase as per taste)
Olive oil - 2 tsp
Italian Seasoning - 2 tsp
Grated Cheese - 1 tsp
Garlic, crushed - 2 -3 tsp
Salt to taste
Ingredients for the Pizza Cups
Pizza dough - 1 ball
Tomato Sauce
Grated Cheese (I used a combination of cheddar Cheese, processed and mozzarella)
Italian Seasoning
For stuffing
Paneer - 1 cup
Butter - 1 tsp
Green Bell Pepper - ½ cup
Chili flakes
pepper and salt to taste
Olive Oil
How to make the Pizza Dough
Proof the yeast by adding the dry active yeast with sugar and warm water. Keep it covered till it becomes frothy.
In a mixing bowl, add the flour, salt, herbs, olive oil, yeast. Mix well and then slowly add water and knead to a soft pliable dough. Let it rest till it doubles its size.
I kept in a pre heated oven and it took about 30 mins. Else it normally doubles up by 1 - 1 and ½ hrs.
When the dough doubles up, pinch it down and divide into equal balls. Dust with flour and roll out as a think sheet.
How to make the Tomato Sauce
Puree the tomato sauce and heat a non-stick pan.
Add olive oil, then crush in the garlic. Saute well and then add the tomato puree. Bring it to boil
Add all the sauces, chili flakes and adjust the seasoning. Then add the Italian seasoning.
Simmer for 5 mins. Finally add the grated cheese and switch off.
This can be made ahead and refrigerated for a week.
How to make the Stuffing
Smoke the bell pepper on flame and then finely chop it and saute in few drops of olive oil
Cube paneer into small pieces and roast it in butter and season with pepper and salt.
How to make the Pizza Cups
When the dough is doubled and ready to be rolled out, dust well and roll out. Using a big cookie cutter of about 6 cm diameter, cut out the size required to fit your muffin tray. If required after cutting, gently roll it again and stretch to cover the entire muffin.
Grease your muffin tray, then place the cut pizza dough, prick with fork so that it doesn't puff up.
Fill it first with tomato sauce, then with bell pepper and paneer cubes, finally with grated cheese and chili flakes. Sprinkle with olive oil and Italian seasoning.
Let it rest for 30 mins or you can refrigerate before baking.
When ready to bake, preheat the oven for 185 C and bake for 15 mins.
Notes
You can either refrigerated the pizza dough or the prepared cups as such, and bake just before packing for your kids snack box.
To make your crust more deep pan pizza types, knead in more butter to the dough and drizzle olive oil to get the exact effect.
Check out the Blogging Marathon page for the other Blogging Marathoners doing BM# 43
Pizza Cupcakes | How to make Pizza Cups