Weekend Party Vegetarian Thali Menu Ideas have dishes that can help you quickly plan for a vegetarian party meal. This can have a one pot rice, Indian Breads, with easy side dishes.
For the final thali in Regional Special, I have a thali showcasing dishes prepared for a special occasion at home. This occasion can always be just a weekend meal, parties, etc. On the menu, I have a Brinji Rice, a specialty of Tamil Nadu, served with an easy Brinjal Curry.
For the second course, we have Drumstick Sambar with Steamed Rice, for the snacks some deep fried dishes like Urad Dal Onion Bonda and Appalam. For the final sweet, it's a dal payasam.
In the Southern Parts of India, we have Brinji or Vegetable Rice served in marriages and special occasions. We don't serve nonveg in a marriage function. However, when we have a special gathering on account of marriage hosted at home, we do have it on the table.
Planning for Special Vegetarian Menu
On occasions like this, for the vegetarian, the option is always these Brinji Sadam or vegetable rice. 
When we host parties pertaining to special occasions like marriage, baby shower, etc, we do not have nonveg on the table as there is always a pooja done. However, other occasions like birthday parties, bachelor/spinster parties, etc, the menu will have nonveg included.
I know you might be surprised by the Bachelor/Spinster Parties terms, well we don't exactly call this with this name. It is just an occasion to invite extended families before marriage or after marriage. After the wedding, the newly wedded couple are invited for lunch and dinner parties. On such occasions, other family members are also part of it. So the menu extends to include as many varieties as possible.
So on such occasions, the menu always features starters like Pakodas, Vadas, fryums, Vegetable Rice, a side dish for the rice that is normally some masala gravy, Vegetable dry side dishes, Steamed rice with Sambar, Rasam, Curds, and sweets.
We never used to have any starters with paneer or soya etc included many years ago. Now it is sort of adapted to the menu and nobody finds it odd to munch on a paneer tikka or paneer pakodas. After all, the current generation strives only on paneer if there is no nonveg on the table.
Depending on the crowd, we can also have a Dosa counter, Poori Counter Etc. Then you will have to change the menu to include these tiffin items as well.
Today's menu features a much-simplified menu that would have been on display.  I was planning on the Brinji for today, things turn out that I will have to talk about how Brinjal Curry is done.
Weekend Party Vegetarian Thali Menu Ideas
Vegetable Brinji
Brinjal Curry
Drumstick Sambar
Urad Dal Onion Bonda
Pasi Paruppu Payasam
Appalam
Steamed Rice
Curds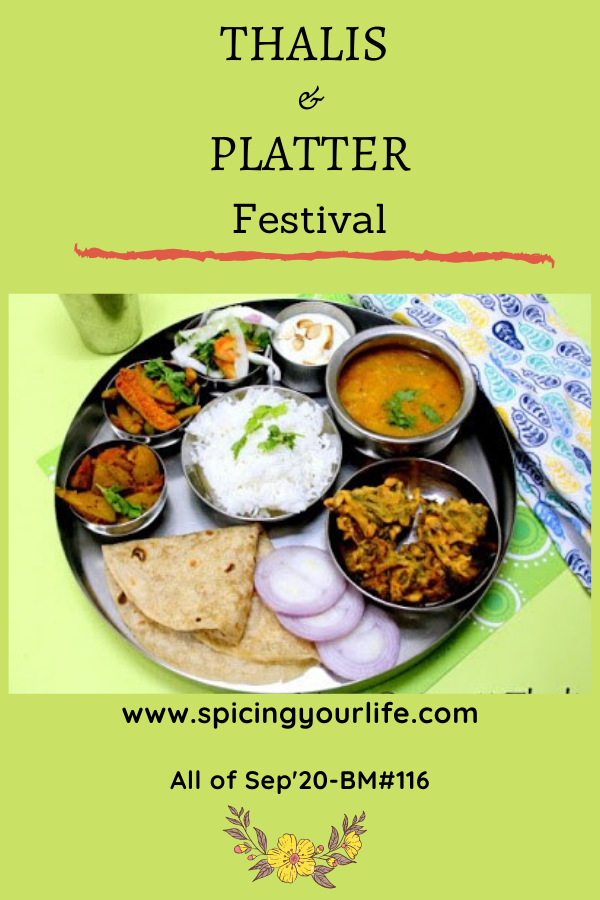 Check out the Blogging Marathon page for the other Blogging Marathoners doing BM#116
You are invited to the Inlinkz link party!