After all the sweet flavoured cookies that I ended up baking yesterday, I had to make some salted ones as well right. So I was wondering what to make when I remembered those herbs that I have been stocking. So glancing through them, I thought I might use the thyme that I had.
I used curds and butter along with the thyme. The dough was so pliable to handle and had a wonderful texture. After baking the crackers were really very crispy. Only this morning they kind of lost their crispy cracking texture. Nevertheless, these were addictive to munch on. So I thought I might as well share and improvise on this recipe soon. The shape and taste were just awesome, that is if you consume right away..:)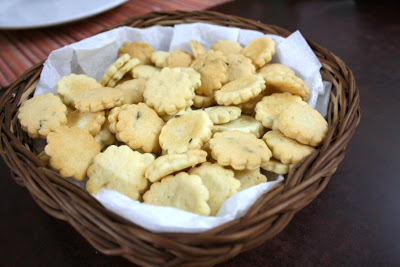 Thyme Salt Crackers
Ingredients Needed
All purpose Flour  / Maida - 1 and  1/2 cups
Butter - 1/2 cup
Curds - 1/2 cup
Salt - 1/2 tsp
Thyme - 1/2 tsp
Baking Powder - 1/2 tsp
How to make:
In a bowl, blend the curds along with butter. Then shift the flours with baking powder, salt. Add the flour to the butter mix and blend well. The dough will get stiff, at this stage add the thyme and mix well.
On a rolling board, flatten using a rolling pin and cut out shapes.
Preheat the oven at 185 deg C and bake for 16 - 18 mins. Allow cooling before munching on.

Notes:
These crackers were very crispy but after overnight being stored they turned little soft. So will be working on getting these stay crispy for a longer duration.
Thyme flavoured Salt Crackers