For the third day of cooking with Onions, I was lost wondering what to make, when I suddenly remembered my colleague once telling me that she used to make Onion rasam. Then I had another friend telling me the same and I always wanted to make it myself. Since I didn't write down either of the recipe, I just went ahead making it my own way.
This turned out very tasty and with simple dal chutney, it made a delicious feast!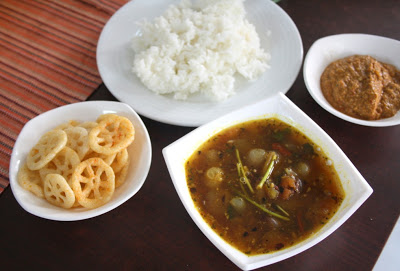 Onion Rasam
Pearl Onions / Small Onions - 1 cup
Tomatoes - 2 medium
Tamarind pulp - 1 tbsp
Cooked Toor Dal - 1 tbsp
Coriander leaves handful
For Rasam powder
Garlic - 4 cloves
Red chilies - 4
Curry leaves - 3 - 4 springs
Cumin seeds - 1/2 tsp
Whole peppercorns - 1/2 tsp
Dal powder
Roasted Channa dal - 1 tsp
Roasted toor dal - 1/2 tsp
For Tempering
Curry leaves
Red chiles -2
Ghee - 1 tsp
Hing a pinch
Mustard Seeds, Urad dal - 1/2 tsp
How to make Onion Rasam
Wash and pressure cook dal till it's soft.
Soak and extract tamarind pulp
Microwave tomatoes till soft and keep it aside.
Make a coarse powder of all the ingredients mentioned under Rasam powder
Dry roast the dals and allow them to cool. Then powder to a fine powder.
Soak pearl onions and peel the skin.
In a pan, heat ghee, temper with mustard, urad dal, curry leaves, and hing. Then add the ground powder, saute well. Then add the pearl onions and saute till they turn brown.
Then add the dal powder. Finally, add the dal water and coriander leaves, bring to boil. Once it starts to boil, remove from gas.
Check out the Blogging Marathon page for the other Blogging Marathoners doing BM# 20
Onion Rasam | Vengaya Rasam ~ Step by Step