When a holiday makes its appearance in the middle of a week, there is always a chance to get off track. And that happened to me. These days, whatever might be the cause of the holiday, more than the cause, the feeling that it is a holiday becomes more important. It's been a long since I have actually observed the importance of any of the national holidays, other than the fact that I get to stay at home.
Before I could even plan for my holiday, I had other commitments being thrown in. My friend invited us for his twin's birthday pooja and I couldn't miss out on the occasion. We finally reached his home close to noon and spent some time there. The highlight being that Chinnu ended up crying as he was not able to play with the babies.
We tried our best to cheer him up, but he continued to bawl all the way home. The day simply flew and I just managed to cook two dishes, instead of the highly ambitious four that I had in mind. Plus the fact that we decided to watch Chennai Express on TV. I had wanted to watch this in theaters. Somehow hubby dear convinced me otherwise, saying we will wait for it to be aired on TV. I was glad he said that.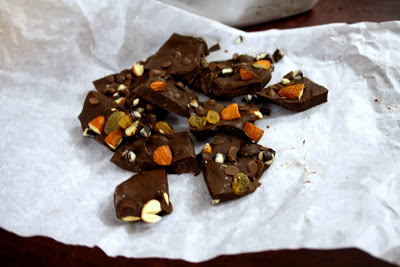 It was pretty late when I finally sat to work and I happily forgot that the next BM starts the next day. I was happy that I had made this couple of days back. The school reopened for the kids, so it's back to the grind now. The last 10 days have been such carefree days for us all.
Well even I thought so too, only when I actually sat down to think what I could do, I was stumped. Nothing came to mind and finally save some better moments, this dish came into the picture and I rushed to make these right away. In fact, I pushed into the freezer and completely forgot to click pictures before leaving for work. I almost thought kids would have seen it and then the end of the story. I was happy to note that my kids were such sweethearts and my bar was still there to be clicked.
They were so thrilled seeing it but had a sullen look when they saw all the nuts and fruits. However, there is nothing chocolate can't do right. So finally their love of chocolate won over their aversion to the rest. And within minutes there was nothing left for me to wonder as well!
For making this bark, I just about used what was left with me. Which meant using up all my milk compounds.
Chocolate Nut Bark
Ingredients
1/2

cup

Milk Chocolate

1/2

cup

Dark Chocolate

1/2

cup

Chocolate Chips

1/2

cup

Vanilla Chocolate Chip

1/2

cup

Almonds

2

tbsp

Raisins

2

tbsp

Mix of the above chocolate chips

for topping
Instructions
How to make the Chocolate Barks
To roast the almonds, in a microwave safe vessel, take the chopped almonds and microwave for a minute. Let it rest and again microwave for a minute.

Let it rest for some more time. The almonds become very crispy.

For the chocolate tempering, chop and take all the chocolate together in a microwave safe vessel. Microwave for a minute, and stir well and again do for a minute. Not more than a minute as chocolate might get burnt.

When you find that chocolate has all melted, remove and whisk well to temper. As you continue doing it, you will find the gloss appearing on the top.

At this stage, add the roasted almond, raisin, chocolate chips, saving handful of each for the final garnish.

Mix everything together and transfer to a tray coated with butter paper. Garnish with the saved up topping on top. Freeze for couple of hours.

Break and enjoy!