This Summer Special South Indian Vegetarian Menu features dishes made with ingredients that are available during summer. Featuring Mango Rice, Black Eyed Peas Fritters, this is a simple and filling meal.
During the Summer season, when we get mangoes, right from the raw unripe fruit, to the ripe sweet ones, we make different dishes with mangoes. I have tried to list out some of the Veg recipes for Summer Season. Some of the popular dishes with Raw mangoes are the Mango Mixed Rice, Mango Dal, Mango Chutney, and of course the most famous Andhra Avakaya.
When we talk about Mango Rice, we have many versions. I am sharing one of the versions today. The other versions include the simple Mango Rice, Mango Coconut Rice ver 1, Mamidikaya Gojju Annam
The Summer Special South Indian Vegetarian Menu thali featured today is about summer special dishes. When you talk about Summer, Madras Summers are sultry, dry, and humid. In that climate, all one wants is to drink chilled water or some juices. Keeping one hydrated is very important and you hardly want to spend time in the kitchen.
At times like those, making some easy mixed rice with just a few dishes will surely help. However, this doesn't mean we skip deep-fried dishes like the vadas. Today's thali features black-eyed peas vada. The peas are dried when they are still fresh and skin removed.
These Black Eyed Peas are not dehydrated peas. They dry peas fresh and remove the skin. We always get these from our hometown and I am not sure if it is available in Madras. They call it Pottu tisina Alasandalu in Telugu (Deskinned Black Eyed Peas). Just realized that I have so many versions of Alasanad Vada.
The Gulab Jamuns are our favorite. Amma always uses the storebought one, even though I have so many different Gulab Jamun versions done on the blog. All occasions like birthdays, anniversaries call for Gulab Jamun making and she does it in a breeze.
Chegodilu is a popular Andhra Snack and when somebody comes visiting us from Andhra, they are sure to get us a load. This time we had got it from AAB2, where this tastes good as well. Hubby Dear says, some dishes even if I do make them very well, are not worth spending so much time on. I have again a couple of different versions of this snack.
Some of the popular Indian Summer Recipes revolve around mangoes, watermelon, fresh produce that we cook in different ways.
We make new dishes for our elaborate Vegetarian Thalis cooked for Saturday Lunch and this is one such thali.
Summer Special South Indian Vegetarian Menu
Mamidikaya Kobbari Annam
Alsanda Vadalu
Chegodilu
Steamed Rice
Rasam
Curds
Gulab Jamun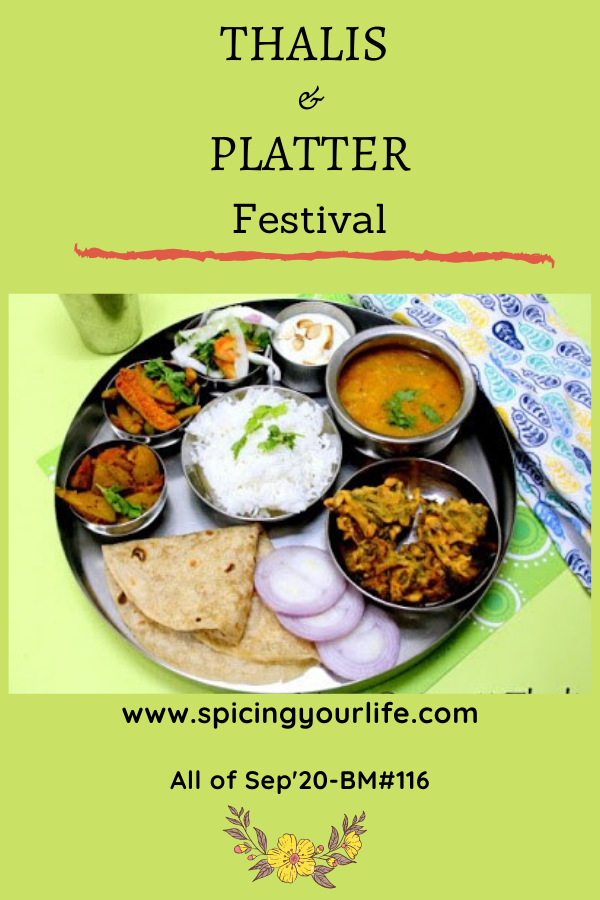 Check out the Blogging Marathon page for the other Blogging Marathoners doing BM#116
You are invited to the Inlinkz link party!