For the last and final day of celebrating Vinayaka Chaturthi Festival Dishes, I have for you some homemade Boondi Laddus. I have never been keen on Laddos, at least the boondi laddoo types. This laddo is the most commonly prepared sweet for any pooja or occasion in most south Indian families. Mine was no different.
Be it pooja or wedding, cooks who are proficient in making these laddos are called home and huge tin after tin gets prepared. The Boondi Laddo tastes best when eaten hot, I don't really much care for the crystallized laddos after a day or two. However, these laddos stay good for a week or ten days.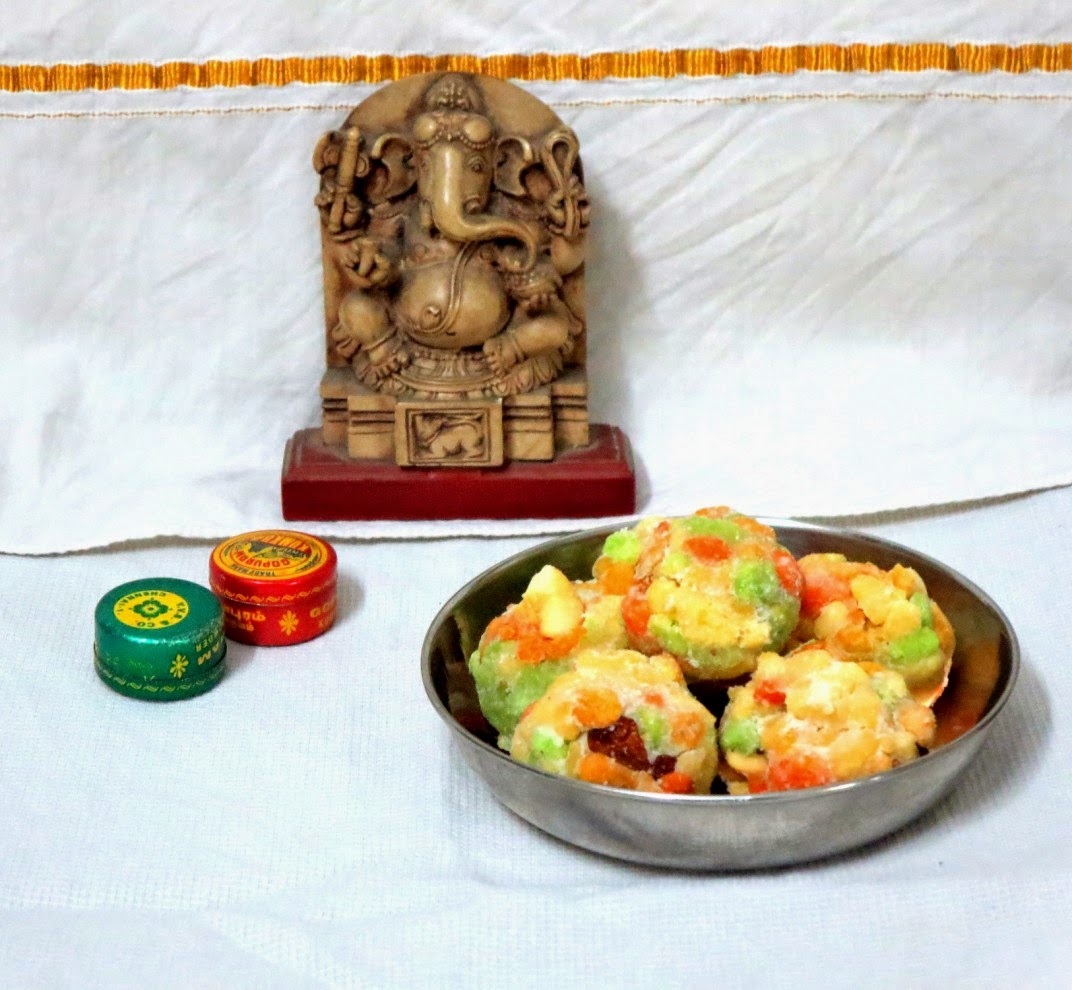 Amma has always made many such festival sweets and savories for each and every festival, especially to distribute to our neighbours. Over a period, we saw her engaging special cooks for making these traditional dishes, as she was finding it hard to continue. This tradition got stopped as well and we resorted to buying from shops, as we saw them making excellent ones and we decided it was not really worth making at home.

As such there are hardly any takers for these sweets. Amma makes it very less quantity for pooja neivedyam alone. I make do with regular neivedyams.
Come Ganesh Chaturthi or Deepavali, I end up asking Amma what special can I cook for posting on the blog. We have almost exhausted our regular ones, referred to many of our books as well. So the list is quite huge.
Initially I had another special festival dish for the third day. Since I ended up making two laddos, I decided I should make these Boondi Laddos. Amma somehow never makes it herself. So this was the first attempt for us both. Even though I don't prefer eating laddos as such, I sort of ended up liking the Motichoor laddu. It's very juicy!
So my next attempt would be that of course. While I was thinking about the boondi laddo, I remembered the colourful boondis that are also made, so while checking it out, I landed on an online site and I decided I would also do the colourful boondi laddos.

Making the batter for the boondis

Mixing in food colours of green and orange

Making the sugar syrup

Frying the colourful boondis


Making in the laddoos.

Homemade Boondi Laddu
Ingredients Needed for making Boondi Laddu:
Besan / Bengal Gram flour - 2 cups
Water to make the batter - 1/2 - 3/4 cup approx. (The consistency should be flowing one)
Food Colour Orange and Green
For the Sugar Syrup
Sugar 2 cups
Water for sugar syrup 1 & 1/2 cups
Oil for deep-frying the Boondis
Roasted cashew, raisins, ghee for garnish.
How to make Boondi
For the Boondi
Take the flour in a big bowl, slowly mix in water and make a flowing consistency batter. Remove 2 tbsp each for the green and orange colour batter into another bowl.
Take a kadai and heat the oil in it for frying the boondis.
Using the boondi making ladle, pour the batter and gently press or tap down. Be ready to remove the boondi almost immediately, as it might get burnt or overcooked.
Once the boondis are cooked, remove them to a kitchen towel.
Repeat the same process for all three coloured batters. Keep it aside.
For the Sugar Syrup
The a thick bottom pan and add water and sugar to it and heat this on medium to low flame to form one thread consistency sugar syrup. Keep stirring in between and switch off when it almost forms one thread string. This takes about 10 mins.
For making the Laddos
When all the boondis are fried, add them to the sugar syrup and mix well. add the roasted cashews, raisins, and ghee. Mix everything well. While it is still hot, starting pressing them as ladoos.
Wet your palm nicely before making the ladoo. Press between your fist and do this quickly as the boondis will be still hot.
When the laddos have formed the shape, press again to ensure they hold their shape.

Notes
For extra shine to your ladoos, apply ghee on your palms and reshape your ladoos the final time.
Wet your palms each time you form the ladoos.
Sugar Syrup should be of one thread consistency or one step before that.
As soon as you deep fry the boondis keep pouring them into the sugar syrup, stir well and then form the ladoos.
You can make just one colour boondi laddo as well.
Homemade Boondi Laddu | How to make Bundi Ladoo ~ Vinayaka Chaturthi 2014 Recipes
You can try this Bengali Style Mishti Bonde as well for Diwali