Beerakaya Gatti Pappu is a thick dal with toor dal, ridge gourd, and garlic tempering. You can serve as a side dish or can be mixed with rice. A traditional Andhra dal, this is a very delicious one to enjoy.
Today is our final day of the Mega BM-themed on Thalis and Platters. We had decided on different themes for the five weeks in September. Each theme was to feature a new thali, that may have a recipe already featured in the blog. However, for all 26 days, it had to be a new one. So deciding on 26 different thalis meeting the clauses on both the blog was a huge task for me.
I made sure I explore as much as possible and the number of hours I must have spent on researching this theme must have been more than the time I spent cooking the dishes. Though we had finalized the theme by Feb 2019, I started my cooking only during Nov 2019. I managed to complete my platters cooking nonstop almost for a week. However, by December I was not keeping well, and almost until march, I just couldn't do anything.
Planning and making the Thalis!
I started my cooking again in Feb and I wasn't sure if I could manage it. Even small regular cooking was a task. Somehow, by March I managed the week 1 dishes and knew I will have to cook through April as well when we start. With the pandemic, we decided to postpone and I got extra time to complete the remaining. However, with ingredients being difficult to source, I completed my final post the day before we had to start.
Amma knew about the thali theme and planned it along with me for many of the regional themes. Suddenly during July, Amma remembered the Beerakaya Gatti Pappu that her Mom used to make. With great enthusiasm and animation, Amma recollected how delicious was the dal. I guess like everybody else, Amma always gets so excited and animated when she talks about her Mom.
Amma has learned all her Andhra dishes from her mom and many dishes we continue to cook albeit with some changes that suit our taste now. However, she always has a twinkle when she talks about her mom. A strong-willed woman who raised eight children with a limited resource at her disposal. She always remembers how her mom used to manage things so well that nobody felt the need for anything despite the nonstop guests they used to get.
The final Special post!
Beerakaya Pappu is always one dal that reminds her so much of her Mom. Just now when I went back to reading the other version that Amma makes, I see that I have mentioned the same! She always used to say that she never gets it as how her mom used to make it. And there was this occasion when they were posted in Kolkata and Amma made this dal with ridge gourd and it turned out just like how she remembers her mom's dal.
So she suddenly remembered this gatti pappu she used to make and said she was going to make this for lunch and I will have to share this for the Mega BM. She said this pappu surely deserves a post of its own. This gatti pappu or mudda pappu is almost the same as the other dal except for a couple of ingredients. Today's recipe is different in the texture and the dal consistency.
I wanted to keep this post for the final day as it is a special one. On C4AS, it's another special dish from Amma.
In this series of Thalis and Platters, all the regional thalis, simple thalis are what I have seen and learnt from Amma. These are the simple meals that I have eaten growing up and continue making even now. I hope this endeavor will help my children.
Thalis & Platters
Week 1 - Platters for Kids
Pyjama Party for Day 1
Sandwich Platter for Day 2
Fusion Platter for Day 3
Pizza Party for Day 4
Week 2 - Thalis featuring Regional Cuisines - Veg Thalis
Dussehra Festival Thali for Day 1
Summer Special South Indian Vegetarian Menu for Day 2
Vegetarian Thali Menu List for Day 3
Gummadikaya Pulusu ~ Vegetarian Lunch Thali for Day 4
Varalakshmi Vratham Festival Thali for Day 5
Weekend Party Vegetarian Thali Menu for Day 6
Week 3 - Thalis featuring Indian Flatbreads
Bajra Methi ki Poori aur Sabji Thali for Day 1
Punjabi Bedmi Puri Nasta Thali for Day 2
Besan Ki Poori aur Sabzi Nasta Thali for Day 3
Rajasthani Bhedawi Puri aur Sabzi Thali for Day 4
Bhujia Paratha Menu for Day 5
Bikaneri Papad Ka Paratha Menu for Day 6
Week 4 - Thalis featuring Street Food of India
Banarasi Street food for Day 1
Delhi Street Food for Day 2
Haridwar Street Food for Day 3
Kolkata Street Food for Day 4
Mumbai Street Food for Day 5
Surati Street Food for Day 6
Week 5 - Simple every day assembled mini thalis
Alasandalu Vada for Day 1
Baby Potato Masala Gravy for Day 2
Vankaya Mamidikaya Pulusu for Day 3
PIN This for Later!
Ingredients Used to make Beerakaya Gatti Pappu
This is a thick dal without much water in the final dish. So, if there is still water after tempering, you can cook it more for the water to evaporate.
We make this dal with green chilis, finally tempering with garlic and curry leaves.
The peels can be used to make Beerakaya pachadi
Beerakaya Gatti Pappu
Beerakaya Gatti Pappu is a thick dal with toor dal, ridge gourd, and garlic tempering. You can serve as a side dish or can be mixed with rice. A traditional Andhra dal, this is a very delicious one to enjoy.
Ingredients
For the Dal
2

cups

Ridge Gourd

/ Beerakaya

3/4

cup

Toor Dal

2

medium

Tomatoes

5 to 6

nos

Green Chilies

1/4

tsp

Cumin seeds

1

inch

Tamarind

A Pinch

Turmeric powder

Handful

Coriander leaves

Salt to taste
For Tempering:
1

medium

Onion

1

tsp

Mustard Seeds

1

tsp

Cumin seeds

2

tsp

Cooking Oil

Handful

Curry leaves

2

nos

Dry Red Chilies

4 to 5

Garlic

crushed

2

tbsp

Coconut

grated
Instructions
Wash and peel the outer skin of the Ridge Gourd and chop the vegetables into small pieces. You can use the peels to make chutney.

In a pressure cooker, take the dal and wash well. Next, add the chopped vegetables along with chopped tomatoes, green chilies, tamarind pulp, turmeric powder, add enough water and pressure cook till the dal is tender.

Once the pressure falls down, add salt and mash well.

Heat a pan with oil, temper with the seasoning ingredients and pour the dal into the pan and bring to boil.

Cook till you get the required consistency!

Important factor to remember is, the dal is very thick, hence you must only very little water and cook till it all evaporates if it has excess water.

The final texture is a thick dal.

Garnish with freshly grated coconut and serve as a side dish with Pappu Charu and Steamed Rice.

For more party menu ideas, check out the Thalis and Platters that would appeal to Elders, and Thalis & Platters that Kids would love!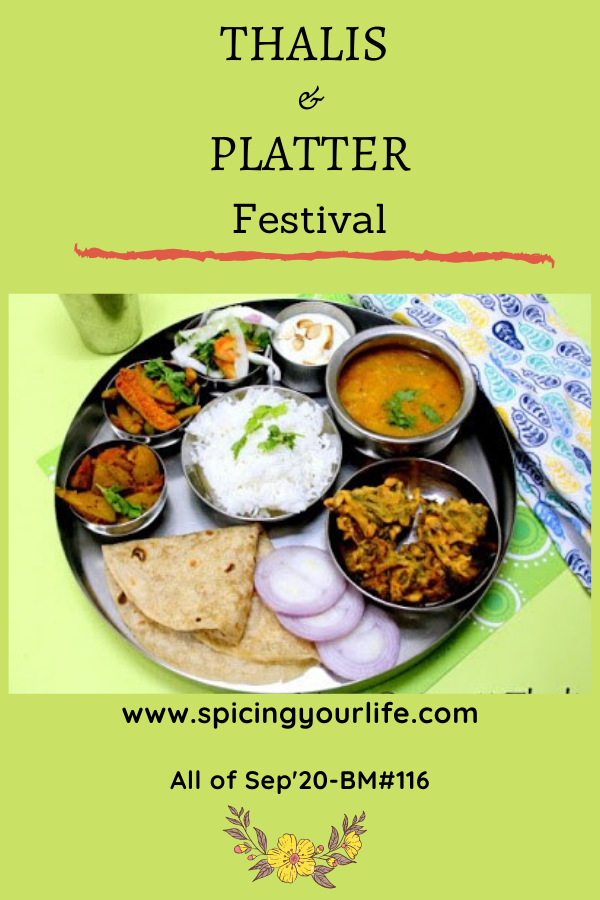 You are invited to the Inlinkz link party!