Varalakshmi Vratham Festival Thali for the Varalakshmi Vrata. Varalakshmi Vrata is a Hindu festival to propitiate the Goddess Lakshmi. Lakshmi is the goddess of wealth, prosperity, and fortune.
Another name for Lakshmi is 'Sri' and 'Thiru' (in Tamil). She is the consort of God Vishnu.
Varalakshmi is the Goddess who grants boons. Married women from different Indian states observe this Vratha and perform the pooja in their houses. Varalakshmi puja is the most auspicious festival celebrated across the southern region of the country.
Why do we do Varalakshmi Vratham?
Varamahalakshmi Vrata is performed by women for their own well-being and that of all their family members. It is believed that worshipping the Goddess Varalakshmi on this day is equivalent to worshipping Ashtalakshmi – the eight goddesses of Wealth, Earth, Wisdom, Love, Fame, Peace, Contentment, and Strength.
What should we do on Varalakshmi Vratham?
For more details on Varalakshmi Vratam Pooja Vidhi, you can read about it and follow it. I am going to give an excerpt from the pooja.
On this day, wake up early, clean the house, take bath, and do the shuddhi of the puja area with Gangajal (holy water). After this, place the Varalakshmi photo or idol on the puja platform. Decorate Goddess Lakshmi with new clothes, jewelry, kumkum, and flowers.
When should we do Varamahalakshmi Pooja?
We observe the Varalakshmi fasting on the last Friday during Shravana (July/August) Shukla Paksha. This year Varalakshmi Vratam in India was celebrated on Friday, July 31, 2020.
Younger married women follow or observe this pooja if their mother or mother inlaws follow it. While both my Athamma and Amma make special neivedyam to Goddess on this day, we also plan for elaborate meals.
We do Lakshmi Pooja in the evening and complete the occasion.
First of all, the Naivedyam prepared on this occasion is also No Onion No Garlic side dishes. Mixed Rice Varieties and Sweet preparations.
When we talk about Mixed Rice Varieties, certainly Pulihora tops the list. We make Pulihora with different ingredients as the main one. Sharing some of the different rice dishes we mostly make.
Check out the collection of Indian Sweets on SYL
Likewise, on the Sweet offering, we have different Payasam, Kesari, Sweet Pongal prepared on the occasion. I have a collection of sweet and savory dishes prepared on different poojas.
Today's festival thali showcases Peanut Podi Pulihora
Varalakshmi Vratham Festival Thali
Pappula Podi
Chickpea Sundal
Peanut Podi Pulihora
Andhra Tomato Venchina Pappu
Pesara Garelu
Gummadikaya Gojju
Curd Rice
Saffron Rice Payasam
Banana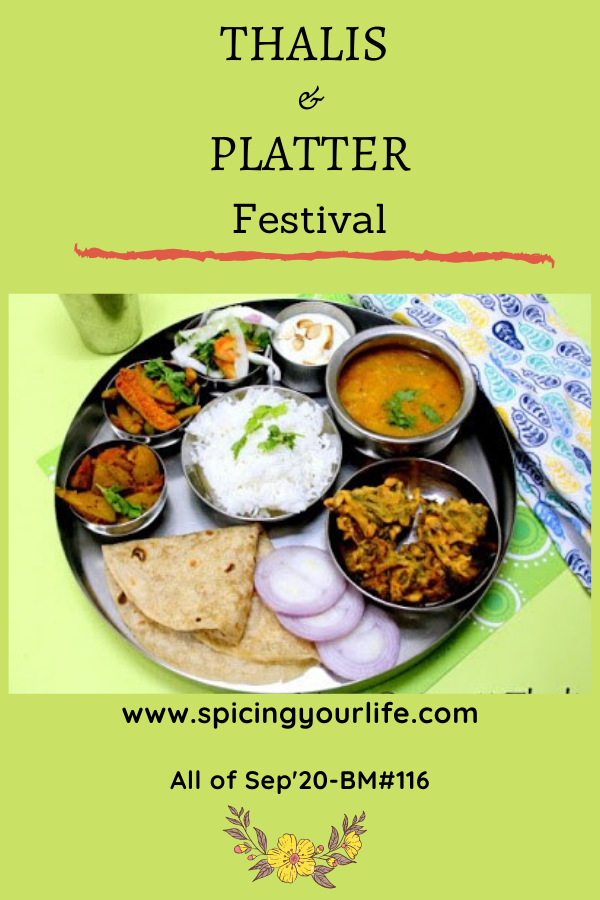 Check out the Blogging Marathon page for the other Blogging Marathoners doing BM#116
You are invited to the Inlinkz link party!