We are starting the second week of BM#52, I will be doing some Cooking Substitutions. In this theme, I wanted all those dishes that can be cooked in alternate means, when the gadget or ingredient the original recipe requires is not with you.
So if you don't have an oven, how will you make an instant cake or cookie press or a nozzle, etc. I have used Murukku acchu for Piping, Paniyaram pan for Cakes, Pressure Cooker for Cakes. For today I have made a quick instant Nirvana with Chocolate cake in Microwave.
Using Microwave for such quick cakes is easy for the instant craving and quick dessert. The one you see below was made for the photo and I made it again twice for the kids after they tasted it.
While this blog is full of chocolate cakes, muffins, and also Microwave versions, I thought I can't afford to check if I have made this proportion or not. Just to confirm I confirmed and noticed the proportions were different and also this was simply perfect for basic combinations.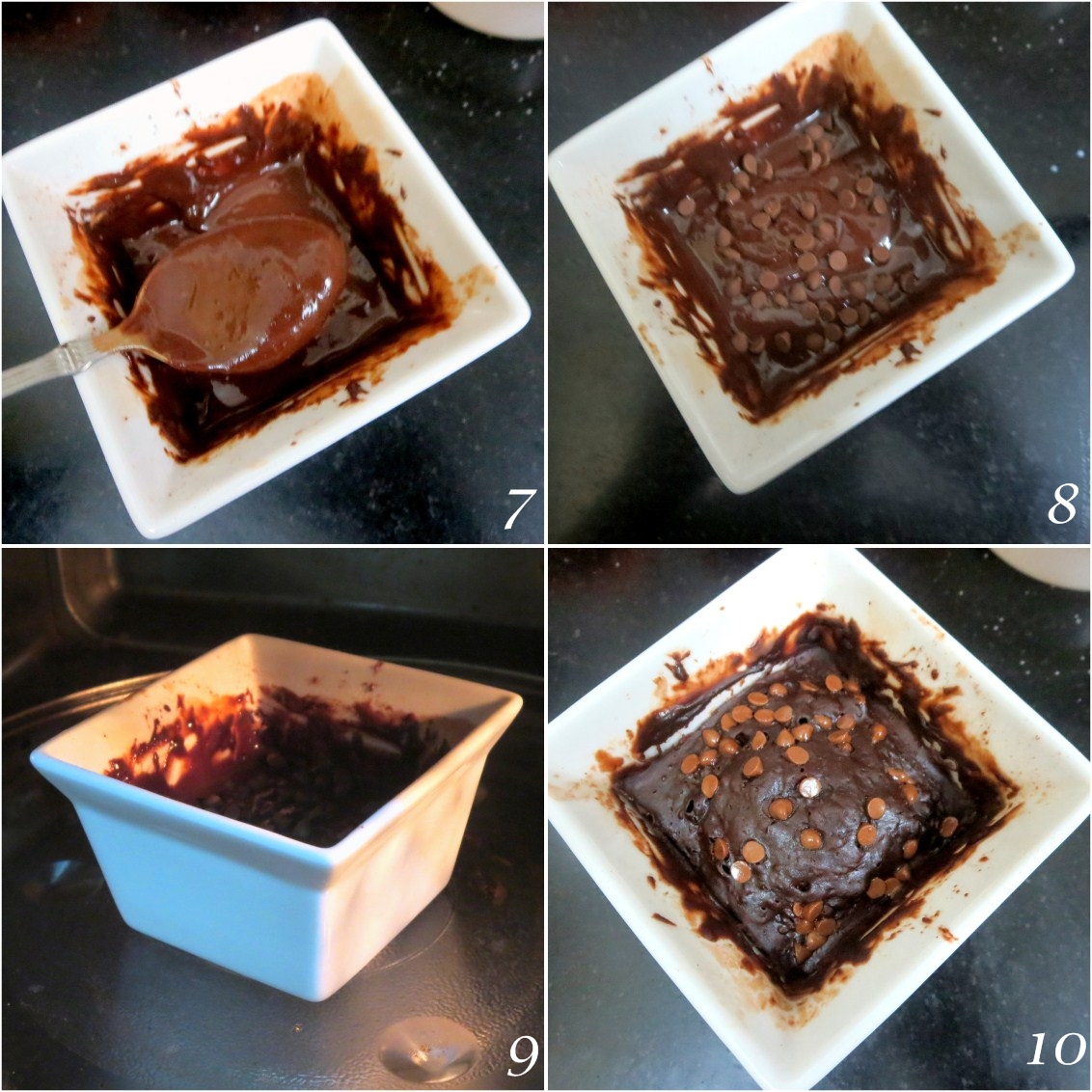 1 Minute Microwave Chocolate Cake in a Mug
Ingredients
3

tbsp

All Purpose Flour

1.5

tbsp

Sugar

2

tbsp

Cocoa Powder

A

pinch

Baking Powder

A Pinch

Salt

4 to 5

tbsp

Milk

1/2

tsp

Butter

1/4

cup

Chocolate Chips

(save some for garnishing)
Instructions
In the serving bowl, add the flour, cocoa powder, sugar, salt, baking powder, butter and mix well. Add the chocolate chips. Garnish the chips on top.

Microwave for 30 Sec, stop and again Microwave for 30 sec.

Wait for a minute and serve right away.
Notes
First time I made without adding butter. So without butter also it turns out very good. However, for that creaminess, you can add butter.
Since I love the dark chocolate effect, I added 2 tbsp, you can add 11/2 tbsp for less chocolate taste.
Ensure you serve this right away, else it will become harder. This is meant to be served right way.