Another recipe that I wanted to make was yet another form of the Gajar Halwa. However since I already had different versions up on the site, I decided I must make something else. So this Burfi was very attractive and didn't want to miss making it.
This recipe called for using cashew and sugar syrup in thread consistency so that the burfi holds it's shape. Infact until I actually went through the recipe again, I was under the impression that I should be adding more milk as in halwa and get it set. Well with the sugar caramilsed it got done very well.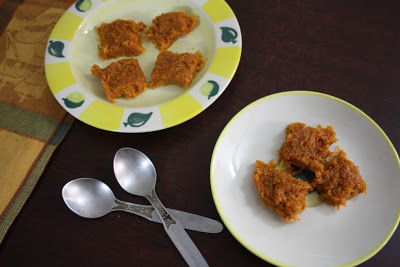 And this is one of those recipes that you can make when you have sugar syrup / jeera or chashni left over and you are not sure how to use it up. I normally end up making Coconut burfi in such cases, so making something different was a good change.
Preparation Time: 15 mins
Cooking Time : 15 mins
Carrot Dry fruits Burfi
Ingredients:
Carrots, grated - 1 cup
Dry fruits (Cashew, Almond, Walnuts - 3/4 cup
Sugar - 1 cup
Milk - 1 cup
Cardamom powder a pinch
Ghee - 2 tbsp
How to make the burfi
Wash, peel and grate the carrots, keep it aside.
In a nonstick pan, add ghee and fry carrot till the Rava smell leaves and the carrot is slightly cooked.
Melt the sugar in another pan, remove scum if any and bring to a single thread consistency.
Meanwhile, add milk to the carrots and stir well so that the carrots are cooked in the milk.
Now add the sugar syrup to the pan and cook on high.
When the mix comes close to thick halwa, add the nuts powder, and combine everything well. You can remove it when the sides start leaving.
Add cardamom powder, mix well, pour on a greased plate.
Allow it to cool. Then cut into burfi.
Notes:
You can refrigerate this since this has milk and can serve it warm.
As I said if you have leftover sugar syrup you can use here.
Check out the Blogging Marathon page for the other Blogging Marathoners doing BM# 23
Carrot Dry Fruits Burfi | Carrot Dry Fruits Fudge