For the final day of Checkerboard theme, I have a checkerboard made with Milk Burfi. I used plain palkova and cocoa mixed palkova. The tiles were easy to make after kneading it for few minutes.
You can make the Palkova at home or you can use readymade one as well if you are short of time. This
palkova
is with Dulce de leche. I also have
chocolate palkova
that can be used.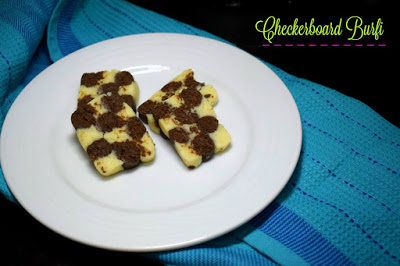 Checkerboard Milk Burfi
Ingredients Needed:
Palkova - 400 gms
Cocoa powder - 3 tsp
How to make the checkerboard Burfi
Divide the palkova equally. Then to one-half, add the cocoa powder and mix well.
Now roll each as a rope. When done with all, start with chocolate rope, place alternatively with milk and chocolate.
Then place the milk rope over the chocolate rope, check the pictures to complete the entire process.
Freeze for 10 mins. Slice into thin slices.
Check out the Blogging Marathon page for the other Blogging Marathoners doing this BM
Checkerboard Palkova | Checkerboard Milk Burfi
Other delicious burfis you can make: