For the second day of Cakes and Muffins with Vegetables and Fruits, it's a bottle gourd day for us! As I said, I have been wanting to attempt doing this theme for the longest time, so when I was very sure I will be making it, I made sure I selected some very good ones for the cakes. When I knew that my boys won't touch a cake if it wasn't chocolaty, I knew I again had to sneak something into a chocolate cake only.
Bottle gourds are quite a regular vegetable that gets cooked in different forms at home. It features on our regular vegetable shopping. However each time it tends to be huge one and we think of different ways to use the whole vegetable. So when I was planning for this vegetable cake theme, I remembered one of the recipe I
came about
, using bottle gourd, and knew I had to use it. I don't know how and when I read this recipe, but it struck me pretty cool and I had it noted it down. Remembering this cake, I requested for a small size bottle gourd to be bought. However two such small ones came home. I modified with what I had on hand. Also I mostly don't prefer to bake with just Baking soda so include baking powder as well.
These gourds were resting on the fridge for quite sometime and Amma was reminding me of them. I knew I had to act soon, else the gourd might rot. However when I finally got myself make it, I found the gourd to be quite fresh still. I know it's such a crime to get fresh vegetables stay on forever like this. Things tend to get busy and it becomes such a chore to even plan something different than the usual regular food.
I had planned for this cake for my boys birthday. However seeing how I was delayed and how we ended up ordering pizzas for them, I knew I could easily slash this for next day. I had ordered a Chocolate truffle for them, which happened to be eggless as well and as you could imagine, I feasted on it as well. The chocolate sauce was a new one as well, so will be posting it separately.
Kids didn't realize what went into this chocolate cake as well. Which meant they happily munching it, saying it was such a delicious cake. I let Konda know and while she said it tasted great and ate it, I didn't see her reaching out for this again. She was looking very sheepish, when I commented on it. She said the other chocolate truffle was pulling her more. Anyway I can always get her eat the vegetable anytime, the boys are more challenging and so I let this fact be in dark.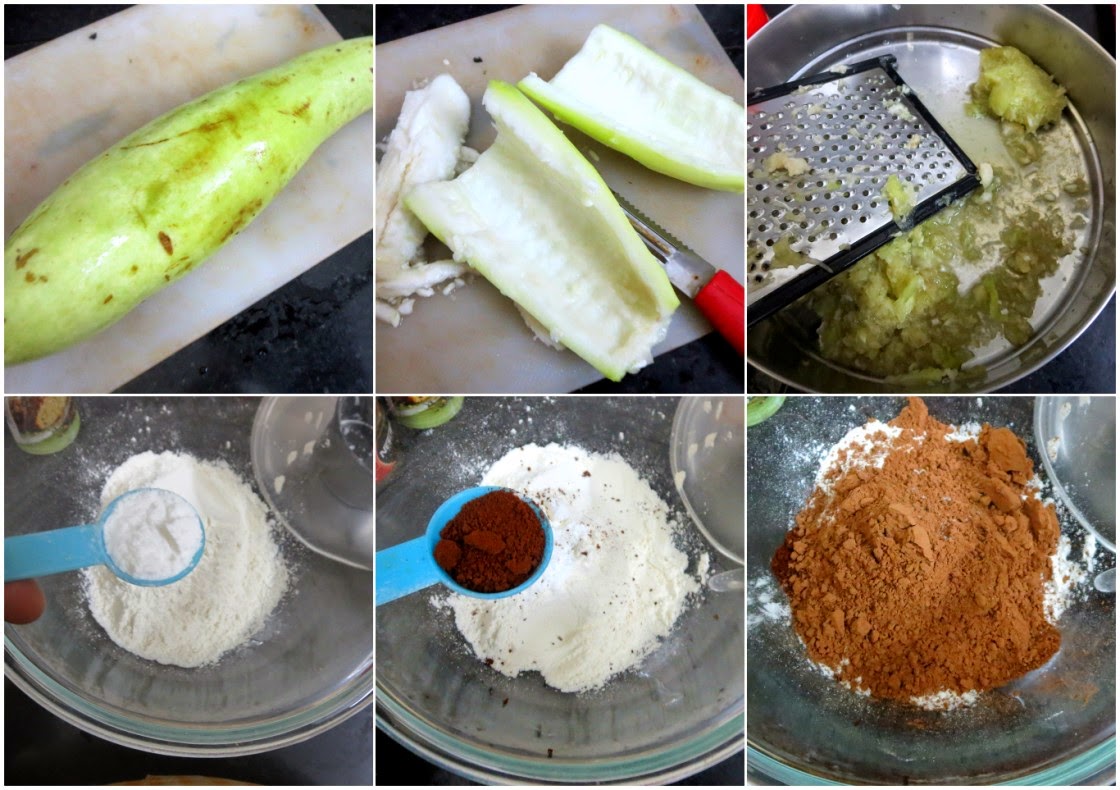 Eggless Chocolate Bottle Gourd Cake
Ingredients Needed:
For the Cake
All Purpose Flour- 1 Cup
Bottle Gourd- 1 Cup grated and packed
Cocoa Powder - 4 tbsps
Sugar- 1/2 Cup, powdered after measuring
Baking Powder - 3/4 tsp
Baking Soda - 1/4 tsp
Instant Coffee Powder- 1 tsp
Salt a pinch
Olive Oil - 1/4 Cup
Apple Cider Vinegar- 1 1sp
Milk as required
How to bake Eggless Chocolate Bottle Gourd Cake
Preheat the oven at 180 Degrees C. Line a 8" round baking tray with parchment paper. I greased the tray and also the paper.
Grate the bottle gourd and measure 1 cup packed and keep separate. Squeeze out the water from the bottle gourd and keep it aside.
In a bowl, take the flour, cocoa, baking powder, baking soda, coffee, salt one by one and sift together with a whisk. Then add the squeezed out bottle gourd and mix well. Next add the sugar and combine gently.
Now add the oil, apple cider, to the flour. Using the whisk combine it together. Depending on the consistency, add milk slowly by teaspoon. The batter should have dropping consistency, however not very loose.
Pour the batter in prepared cake tin. Choose a cake tin so that batter is more than 1/2 in the tin.
Bake the cake in the preheated oven at 180 Degrees for 35-38 minutes or till a toothpick inserted in the centre of the cake comes out clean.
Notes:
Though we are not using the water from the bottle gourd, you don't have to squeeze out completely. So depending on how we the batter is, you can add the milk accordingly.
This cake will take a little while more to bake as it's very moist because of the vegetable. When you eat, you will find the grated bottle gourd, though when the cocoa is more you won't find the taste.
You can also bake the last 10 minutes with the top of the cake covered with aluminium foil.
This stores well when refrigerated for a week. Warm before serving.
I only added about 4 tbsp of cocoa powder, instead of 6, so if you want to make it even more chocolaty, increase the amount. However the sweetness should also be taken care.
Check out the Blogging Marathon page for the other Blogging Marathoners doing BM# 45
Eggless Chocolate Bottle Gourd Cake | How to make Bottle Gourd Chocolate Cake