We are starting the second week of BM#55, for which I will be doing some healthy family dinners. Most days, our dinners are rotis and curries. However, there are times when I make one pot meals and sometimes upma as well.
When we went to Ahmedabad the first time for our BM#25 Anniversary, we had two little fellows accompanying us. Nandini's and PJ's kids. For the kids Vaishali had her cook make Khichdi for the babies, however, instead of them, it was us who mostly ate it.
I have been wanting to make it myself. So I have been asking Vaishali for the recipe and she sent me the recipe. I enjoyed making it for our dinner on a weekday.
She said the Khichdi has to be of ratio 1: 2:1, 1 part daal 2 parts rice:1 part mix vegetables.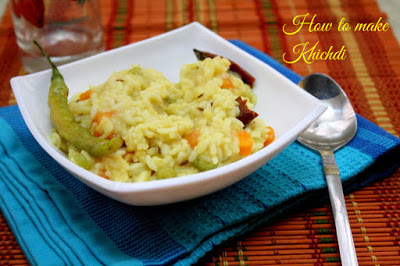 Khichdi
Ingredients Needed:
Moong Dal - 1/4 cups
Toor dal - 2 tbsp
Rice - 1/2 cup
Mixed Vegetables - Carrots, Beans, Potatoes (can add cabbage, cauliflower, green peas) - 1/2 cup
Salt to taste
For tempering
Ghee - 2 tsp
Cumin seeds - 1 tsp
Red chili dry - 2 slit
How to make the Khichdi
Boil dal, rice, and mixed vegetables separately. Allow the pressure to fall down.
Heat ghee in kadai, temper with cumin seeds, red chilis, add vegetables, and mix.
Next, add salt, then rice, and dal. Combine everything well
When mixed well, serve hot with papad
Khichdi | How to make Khichdi