For the final day of cooking dishes that can be packed for Kids, I naturally have to make some Murukus right. Murukus is my ever favorite snack and I always remember waiting for the Deepavali season when Amma would make boxes and boxes of Murukus. Nothing has ever come to close to the taste that she makes.
Only recently I have started making these myself. Though I get the satisfaction of making them myself, I still long for those Deepavali Murukus. However, I was happy to note that while I was making these itself, Chinnu was making frequent visits, wanting to know when it will be done. I even allowed him to press on the bowl, next he wanted to press into oil! I said he needs to grow up to do all those things.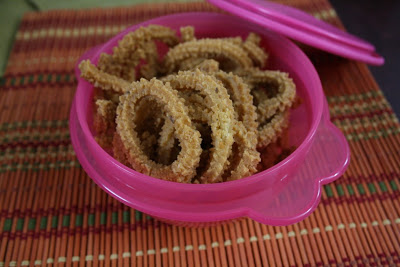 Mullu Muruku
Once all of them were made, and pictures clicked, the boys were impatiently waiting to munch on these. Chinnu asked why I had put these into a box. I said these were supposed to be pack and also the box was a gift from my friend Padma. This is a cute box that Padma gifted us and I was waiting to use this as a prop!


Muruku ~ Snacks for Kids

Mullu Muruku
Ingredients Needed:
Rice Flour - 1 cup
Urad Dal - 1/2 cup
Besan / Gram Flour - 1/2 cup
Salt to taste
Butter - 1/4 cup
Cumin Seeds - 1/4 tsp
Ajwain - 1/4 tsp
Black / White Sesame Seeds - 1/2 tsp
Red Chili powder - 3/4 tsp
Sambar powder - 3/4 tsp
Hing a pinch
Oil for frying
Single Star press for making the Murukus
How to make the muruku
On a medium flame, dry saute the urad dal until it turns colour.
Allow it to cool and grind to a fine powder.
In a wide bowl, take the rice flour, besan, Urad dal flour, and all the rest of the ingredients and rub well.
Heat a Kadai with enough oil for frying the murukus.
Slowly add hot water and knead to a soft and smooth dough.
When the oil is hot, transfer the dough into the press and gently press on the ladle back and drop into the hot oil.
If you find that pressing separately is too tedious, then press directly over the hot oil.
Ensure you maintain a safe distance
Cook on both sides and remove to a kitchen towel.
Store in an airtight container and pack it for kids!
For more Muruku Recipes, check below:
Thenkuzhal Muruku | Thenkuzhal Recipe
Thenkuzhal Muruku 2 
Mixed Dal Muruku 
Peanut Murukku | Groundnut Murukku
Jantikalu or Muruku
Sagu Biyyam Muruku / Sago Muruku 
Sada Muruku
Mullu Muruku | Thenzulal 3 - Snacks for Kids ~ Back to Hostel Food