We are starting the third week of Blogging Marathon Edition 28. I decided to take up Sindi dishes and thought long and hard on the dishes I should be making. I decided against the regular ones and wanted to try some really difficult ones. I also decided to refer my cookbooks rather than the online source. Guess what on both account I couldn't meet my own conditions. My books surprisingly vanished.I knew I had but however much I search for those books, I couldn't find them. The problem is, I keep reading and browsing and keep them somewhere. Other times, my kids find it interesting to browse through the books and pick up to do and keep it somewhere beyond my reach. So I had to resort again to blogs. My one stop for Sindhi recipes can't be anything other than Vaishali's.
With just three of us at home, I decided I might as well make use of the time to cook new things for the dinner time. I was going through Vaishali's index and saw many interesting things. Unfortunately time was short and I had a meal to make. So finally settled down to make the Dal and Aloo Tuk.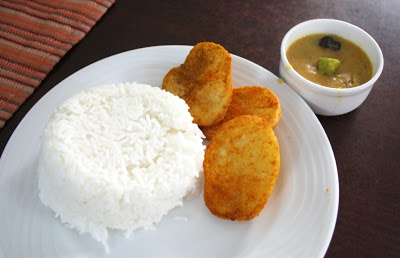 Sindhi Dal. Aloo Took
I know Aloo Took met with lot of special Media attention what with the actor Amir Khan seen eating this. Don't ask me where I saw this, I just saw. Of course this is not the reason why I ended up making just that, it was Vaishali's picture that tempted me to indulge in this sin.As true to my nature, I simply can't follow a recipe through. I ended up using Masoor dal instead of toor dal. I sincerely hope that Sindis use Masoor dal as well..:). Rest of the recipe is almost the same as what Vaishali has said. Well almost!
I suggest you refer Vaishali's post for authenticity, while I have my own take on a Sindhi Dal!
As with any cuisine, the dal is always serve with rice and taryal patata (fried potatoes) In this case the Aloo Took. Though Vaishali has changed over to healthier options, I remain true to the solid Indian fancy and serve Dal, chawal with Fried Potatoes.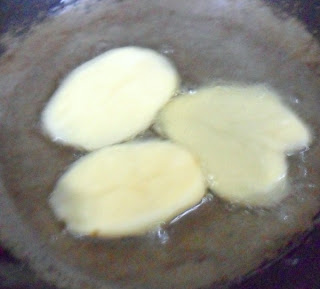 Sindhi Dal
Toor Dal - 1 cup  (I used Masoor dal)
Tomatoes - 2 medium
Curry leaves - 1 stem
Turmeric powder a pinch
Ghee - 1 tps
Wash the dal and in a pressure cooker, take the dal along with curry leaves, tomatoes, turmeric powder, ghee and salt. Pressure cook for couple of whistles.
Once the pressure falls down, using a churner, mash the dal.
Vaishali asks us to strain the dal to remove curry leaves and tomato skin. Being used to these, I skipped this part (I prefer to say this rather than accepting I didn't see this step)
For Tempering
Oil - 2 tsp
cumin Seeds - 1/2 tsp
Mustard seeds - 1/2 tsp
Fenugreek Seeds - 1/4 tsp
Hing a pinch
Ginger - 1/2 inch
Green chili -  4-5
Dry red chili - 2
Red chili powder - 1/4 tsp
Sambar powder - 1/4 tsp
Lemon juice - 1/4 tsp
small bunch of coriander leaves.
Once the dal is cooked and simmer, do the tempering in the order listed and once it's all fried, pour over the simmering dal. cook for 5 mins
The first time I saw these Aloo Took when Vaishali posted, I knew I had to make these. I am not really such a great fan of potatoes other than Potato chips. I didn't grow up eating aloo roast or any dry sautes with Aloo. Amma never makes Potato fries or the Aloo podimas or the many versions of fried potatoes. We took our weekly dose of potato as Masal for either Dosas, Pooris or even many times as Kurmas. With Amma never repeating a vegetable in a week, these fries never graced the dining table.
Only after Konda started school, I found aloo roast was the quickest dish I can make. Anyways after having made Aloo Took, I can understand the attachment one gets with this dish! Without further rambling, here's the tempting aloo tuk served with dal.
Aaloo took
Potatoes
Oil for deep frying
Masala to be sprinkled
Red chilli powder
Aamchoor powder / Dry Mango powder
Black pepper powder
Coriander powder
Roasted Cumin powder
Garam masala
Salt to taste
You can go free on the measurement of the spices
Peel potatoes. Cut into fat rounds.(a medium size potato has to be cut in two).
Sprinkle salt, leave it for about 5 mins.
Heat oil. Fry the potatoes on slow flame till cooked. Remove.
Cool. Press these with the help of your palm.
Fry the potatoes again to a crisp golden. Drain.
Sprinkle spices.
Check out the Blogging Marathon page for the other Blogging Marathoners doing BM# 28
Sindhi Dal, Aloo Took ~ Sindhi Meal with Dal and Aloo Tuk