For the final day under No Tomato Gravies, I have a delicious mixed vegetable kurma. If you have ever observed, I am fond of making different kurmas. For the typical explanation that I have in my dictionary, I think of a kurma as a saviour of any meal.
A Kurma will go excellently, if done in the way it is supposed to, for any meal of the day. Meaning if you serve a kurma for breakfast along with Dosa, Idli, or Idiappam, you are in heaven! Did you fail to mention Poori? Well, this comes first. So you can understand how much I love a Kurma or rather the ease it gives us in cooking.
As I have already shared, such adventurous or expedition always used to take place in parent's place. My father and brother are quite adventurous and would love to try anything that Amma dishes out for them and in fact would praise it for a long time, which means it ought to get repeated again very soon. In that way, I felt I need to work on Hubby Dear's exposure as he comes from a household that seems to have fixed ideas about each meal. And t my surprise I find Athamma to be as adventurous as we are.
Talking about Athamma, I think I failed to share the happy news of her return. I guess in my happy dance that I made, I failed to share that bit here. She's back home last week and yes all of us are so happy. It's been over eight months since she went to her daughter's home and now she was surprised to find certain changes in our family's food habit. I daresay I have got them improved in some areas and got them to be a little more flexible in their attitude towards different meals.
The ultimate change will be the day when one can have Chapatis with Kurma for Breakfast and think it's normal!
Anyway coming to the recipe for today, as I said I decided to make another kurma with a different nutty combination. My kurmas vary from super rich to mildly rich and this one can fit into either way depending on how much coconut and poppy seeds you add in.
While the previous two dishes were made ahead, I was not done with this one and I had to make it the day we all had a family dinner together. My brother was leaving back to the UK and the kids wanted to spend time together. They sort of wanted a Fries Party! Can you imagine the ideas they come up with to have a party? They had a pizza party, a Cakes party, even a biscuits party. Their idea of a party is sitting together, enjoy their snack with a fuzz. Since aerated drinks are not allowed, they are sadly left to enjoy their time with Fruit juice. While this is in no way equals a Pepsi, they had to settle with it.
So while we were frying the french fries and other snacks, I squeezed in to make this gravy. By the time I was done, I was so tired that I didn't have energy enough for a proper click. The taste was awesome, so it kind of compensated.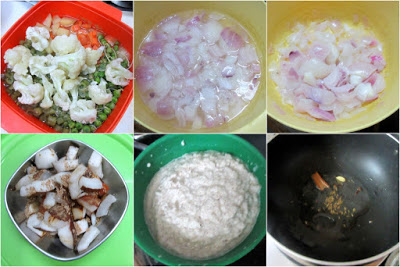 Check out the Blogging Marathon page for the other Blogging Marathoners doing this BM.
Recipe
No Tomato Mixed Vegetable Kurma
Ingredients
1

cup

Onion

Puree

Ginger Garlic Paste

2

cups

Mixed Vegetables

(Carrot, Beans, Peas, Cauliflower and Potato)

1

tsp

Red Chilli Powder

1

tsp

Coriander Powder

1/2

tsp

Cumin Powder

2

tsp

Cooking Oil

Salt to taste

A Pinch

Garam Masala

1

tsp

Lemon Juice
Whole Spices
2

Cloves

2

Cinnamon

2

Cardamom
Masala Paste
3

tbsp

Coconut

1

tsp

Poppy Seeds
Instructions
How to make the No Tomato Mixed Vegetable Kurma
Wash and prep the vegetables, parboil or microwave for 10 mins and keep it aside.

Dry roast the coconut and poppy seeds, allow to cool and make a smooth paste.

Chop the onions, boil in a cup of water or microwave for 3 mins, drain and once cooled, make a paste.

Heat a kadai, add cooking oil, add the whole spice, saute for few seconds and then add the onion puree.

Cook on high, then, add ginger garlic paste and saute well. Now, add the spice powders, mix well and continue cooking for another 2 mins.

Add the ground coconut masala, combine everything and then add the boiled vegetables.

Mix everything well, add enough water, and bring to boil.

Finally, add the garam masala and coriander leaves. Switch off and add 1 tsp lemon juice. Cover with lid for 5 mins before serving.

Serve with rotis.
If you are looking for kurmas from other cuisines, try this Kerala Style Veg Korma