For the final day of Making drinks with one ingredient, I had opted for Chocolate. So after seeing how to make Hot Chocolate and Hot chocolate with Orange, this was one daring attempt. Infact if Konda didn't encourage me to make it, I would defenietely not even thought about it.
Yes, this Hot chocolate was with Red Chili powder and Cinnamon sticks. I read about this in couple of websites and each had done it differently, though the ingredient combination was chocolate and chili. So I thought I would simmer the drink with the spice and let it steep in for a while.
Konda didn't let me off the hook and said I ought to drink it myself.
I was so happy in finally trying out so many versions of chocolate drink. With this being a standard ingredient found in my pantry all the time, no harm in experimenting with different combination.
Spicy Hot Chocolate with Cinnamon
Ingredients Needed:
Milk - 1/2 cup
Hot water - 1/2 cup
Cocoa powder - 2 tsp
Sugar - 2 tsp
Chili powder - 1/4 tsp
Cinnamon stick - 1"
Chocolate chips - 1/2 tsp
Fresh Cream for topping
How to make the Hot Chocolate
In a pan, bring the water to boil, remove and add the cocoa and blend well. Then add the chili powder, cinnamon stick and put back on flame and simmer for 5 mins, stirring well.
slowly add the milk and stir well. Simmer for 2 mins, stain out the cinnamon stick, warm over low heat before serving hot with chips and cream.
Notes:
The chocolate chips were supposed to be boiled, so that it melts, I added few in the first stage, rather added more in the final stage as we felt the chili will surely hit hard.
The cinnamon is a good hint, while chili really hits straight.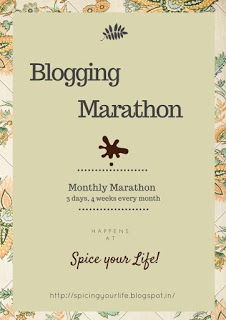 Check out the Blogging Marathon page for the other Blogging Marathoners doing this BM
Spicy Hot Chocolate with Cinnamon | Cinnamon Chili Hot Chocolate