When I was cooking a thali couple of weeks ago, I took out a clipping from my paper cuttings that had loads of rasam. I was upset that I hadn't seen that paper before, else I might have taken up making all those rasam for the BM when I had the theme couple of editions back.
The list had some really adventurous rasams, with potato rasam, horsegram rasam along everyday rasam. One rasam that really caught my attention was this Beetroot Rasam. I decided I was going to make it.
Amma was quite apprehensive about the taste, we need not have worried about it. It was really so delicious.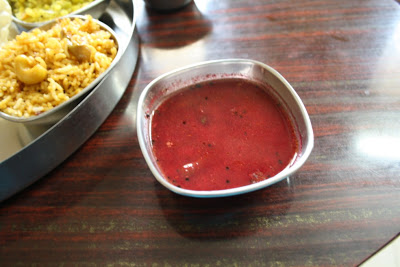 Beetroot Rasam


Beetroot Rasam
Ingredients Needed:
Beetroots - 1 cup
Tamarind - 1/2 lime size
Jaggery - 1 tsp
Salt to taste
Green chili - 1
For the Spice Powder
Oil - 1 tsp
Coconut - 1 & 1/2 tbps
Methi - 1/4 tsp
Coriander Seeds - 1 & 1/2 tsp
Red chilies - 6
Cumin Seeds 1 tsp
For Tempering
Oil/ ghee - 2 tsp
Mustard - 3/4 tsp
Hing Powder - 1/4 tsp
Dry Red chili - 1
Garlic - 5 cloves
Curry leaves - few
Coriander leaves - 1 tbsp
How to make the Beetroot rasam
Peel, wash, and chop the beets into small pieces. and pressure cook the beetroot.
Preparations:
Slit the green chili, chop the coriander leaves. Soak tamarind in one cup of water, squeeze and strain out the juice.
For the Masala powder:
Heat oil in a pan. Then add each one by one, first, add methi, toss for a couple of minutes in low flame, next add the coriander seeds, jeera, red chili, till well roasted. Next add curry leaves, coconut, saute for a few minutes. Allow the masalas to cool. Grind it along with the cooked beetroot with one water in a mixer to a fine paste.
Making the Rasam:
Boil the tamarind juice in a vessel with jaggery and salt. When the raw smell of tamarind disappears add the ground paste dissolved in 2 cups of water. Add green chili, few curry leaves. Boil for a few mins and simmer.
Beetroot Rasam | Step by Step Recipe