For the fifth day, I have another thali to share, which is again an everyday Lunch meal. We ended up making so many dishes that day because we had an overload of vegetables and there was a serious case of them getting rotten. So to save them, we ended up cooking a storm and eating them over time.
And since it was a bland food for me for a week, Amma said she would do it and this was the result. Seeing so many curries and kootus I had to ask what all went in. I liked the Kootu that she had made, she said she cooked with a new vegetable and forgot what the vendor called it.
The kootu was very good, naturally, I had to make it again. So I asked her for the vegetable name. I even told her that she can give me hints and I can search over the web. Within a couple of secs, I was able to land in the right place and showed her the picture. She was excited that I found the vegetable so quickly.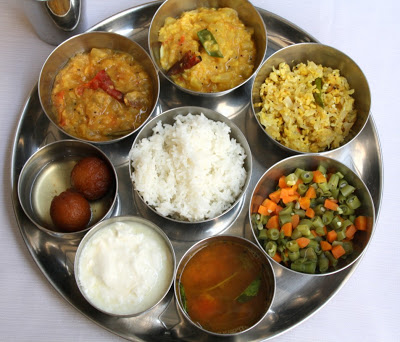 We read on it extensively and came to know it was called Indian Apple Gourd. Tinda in hind, and is mostly grown in North and quite a common vegetable in Punjab. Amma said that since she was going again the same day she would clarify the name with the Vendor. I didn't comment anything on that and let her to ask.
I was all curious myself and called her the moment she came back from the shop. With a sheepish smile, she said what happened at the shop. She asked the vendor and pat came the reply, "Aadu Linda Madam" (That's Linda Madam). Amma didn't know how to react and said had I not told her what it is actually called, she might have assumed so..:)
Now coming to the Linda Kootu, it's such an healthy and hearty kootu. We have got Tinda again and make Kootu with Moong. If you haven't tried Linda Kootu, then I strongly suggest you do!
After all Linda, oops Tinda is very tasty!
Tinda Kootu
Tinda Kootu
Ingredients Needed:
Tinda / Indian Apple Gourd - 1, chopped into small pieces.
Split Yellow Moong dal / Pesarapappu = 1/2 cup
Onions - 1 small
Tomato - 1 medium
Cumin Seeds - 1 tsp
Salt to taste
Tempering
Curry Leaves few
Dry Red chilies - 3
Mustard Seeds, Urad Dal - 1/2 tsp
Oil - 1 tsp
How to make the Tinda Kootu
Wash and peel the outer skin from the Tinda, chop into small pieces.
Wash the split yellow moong dal, take it in a pressure cooker along with tinda, cumin seeds, chopped onions, chopped tomatoes, salt with a cup of water. Pressure cook for couple of whistles.
Once the pressure falls, remove the lid. In an another pan, heat with oil. Add mustard seeds, urad dal. When it splutters, add broken dry red chilies, curry leaves. Toss around and pour into the cooked dal. Mix well and bring to boil
Serve with Sambar and Rice.
Recipe
Tinda Kootu | Tinda Curry ~ South Indian Thali
This Poricha Chow Chow Sundal Kootu is yet another delicious side dish you serve with rice.