Pavakkai Pitlai is a tangy, mildly spiced tamarind gravy, served with rice. The ground masala added to the Pitlai makes it very delicious when served with steamed rice and ghee.
Pitlai is much similar to the Arachuvita Sambar with a slight difference in the ingredients added. You can serve Pitlai in different ways. When you serve it thick as kootu, you have something else added to the plate. Or as kuzhambu it is thin and is the main dish with Rice and eaten. You can read about my previous version of Pavakkai Pitlai that was served to be mixed with rice.
Today's recipe is slightly different than my previous recipe and can be served as kootu to your main dish. As Pitlai is mostly prepared with Bitter gourd, I went ahead with it as Hubby Dear likes it a lot.
How is Pitlai different from Arachuvita Sambar?
Both Pitlai and Arachuvita Sambar has similar spices and lentils roasted and ground. Arachuvita means made with the ground masala. There are some slight differences between these two dishes. While sambar is thinner though, with the ground masala, the sambar does end up being very thick, it uses more tamarind than Pitali.
The vegetables used in Pitali are Bittergourd, Ash Gourd, and Brinjal. Another difference is the use of lentils like Kabuli chana, black chana, and groundnuts that are not added to a Sambar. We do not add it to Sambar. Of course, these differences can differ from home to home. I have learned to make these from my friend's moms and they make it like this.
In today's version, I have used Kabuli Chana and served as a kootu. This is Day 3 of my Vegetarian Regional Cuisine, for Thali and Platter, Week 2. On C4AS it's another Nonveg Thali.


Thalis & Platters
Week 1 - Platters for Kids
Pyjama Party for Day 1
Sandwich Platter for Day 2
Fusion Platter for Day 3
Pizza Party for Day 4
Week 2 - Thalis featuring Regional Cuisines - Veg Thalis
Dussehra Festival Thali for Day 1
Summer Special South Indian Vegetarian Menu for Day 2
PIN This for Later!
Some of the different names for Pavakkai Pitlai is Pavakai Pitlay / Bitter Gourd Pitlai / Pavakkai Kadalai Pitlai / Pakarkaai Pitlai.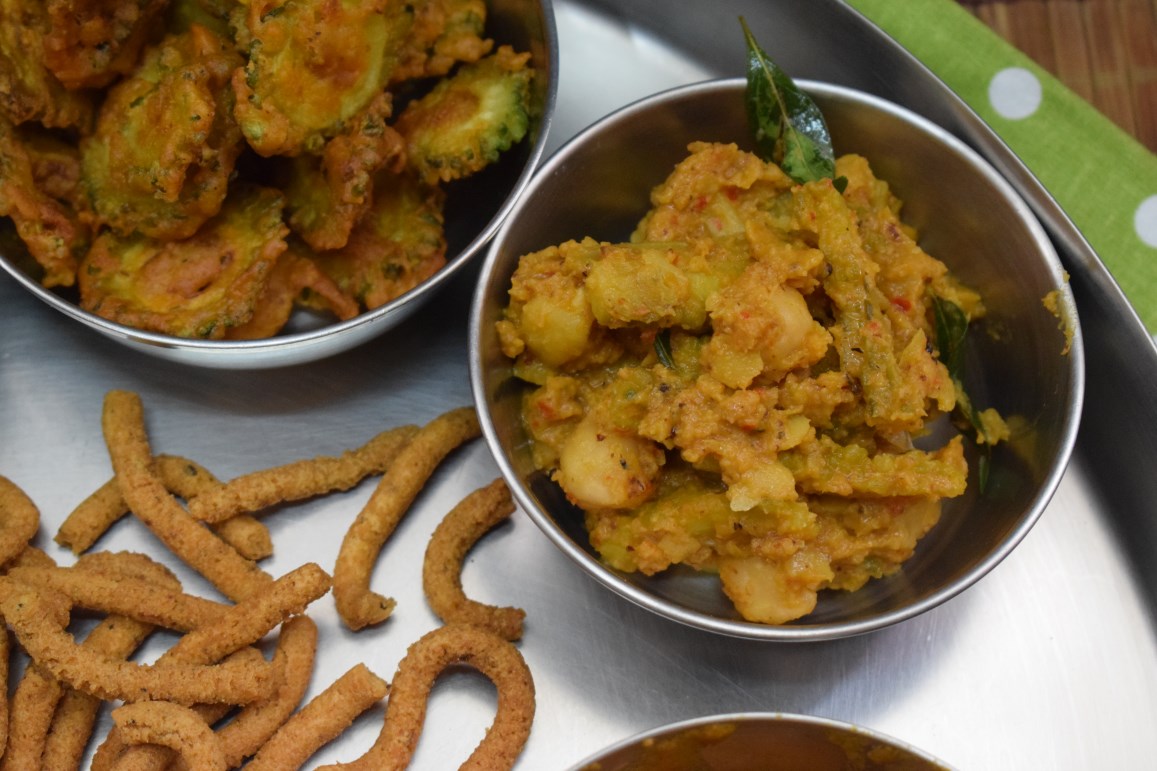 Ingredients Used to make this Pavakkai Pitlai
Pitlai is a tangy thick kuzhambu. For the vegetable, you can use different vegetables like Bitter Gourd, Ash Gourd, or Brinjal.
For lentil, you can use Kabuli Chana or Black Chana. If you forget to soak the chickpea overnight, you can use Chana Dal as well.
Or you can use peanuts or mochai too.
This thick gravy uses freshly ground spice masala and it thickens the dish that you can eat as a side dish without mixing it in rice.
This is a No Onion No Garlic gravy that works out best on occasions you want to observe.
Serving Suggestion:
Serve Pitlai as a side dish for Rice. You can mix it with rice and serve it both as a thick dish or a little more watery consistency. Traditionally you serve with a serving of ghee topped over rice and enjoy.
To make it Vegan, you can skip the ghee.
Pavakkai Pitlai | How to make Bitter gourd Pitlai
Pavakkai Pitlai is a tangy, mildly spiced tamarind gravy, served with rice. The ground masala added to the Pitlai makes it very delicious when served with steamed rice and ghee.
Ingredients
To be boiled
1

cup

Bitter gourd

1/4

cup

Toor Dal

1/2

cup

Kabuli Chana

/ Konda kadali

2

inch

Tamarind

almost small lemon sized

Salt to taste
To be roasted and ground
1

tsp

Cooking Oil

1

tbsp

Coriander Seeds

1

tsp

Chana Dal

/ Bengal Gram

4 to 5

nos

Dry Red Chillies

1/2

tsp

Rice Raw

1/4

cup

Coconut

grated
For tempering
2

tsp

Cooking Oil

1

tsp

Mustard Seeds

1/4

tsp

Fenugreek Seeds

A Pinch

Asafoetida

/ Hing

1

no

Dry Red Chilli

Handful

Curry leaves
For Garnishing
Handful

Coriander leaves

finely chopped
Instructions
Prep work
Wash and soak the chana overnight and when ready to make this dish, change the water a couple of times and pressure cook with enough water along with 1/4 tsp salt.

Wash and prep the bitter gourd. I chopped it into 1 inch thick pieces. Added salt and let it rest for 10 mins, squeeze it well after 10 mins. Use the seeds if it's tender, else discard.

Bring 2 cups water to boil and add the bitter gourd and cook till done.

Remove the chickpea and pressure cook the toor dal. If you are used to pressure cooking all the ingredients using small cups, you can do it at the same time to save time and energy.

Soak the tamarind and extract the pulp.
Making the ground Masala
Heat a nonstick pan with oil and fry all the ingredients listed under masala one by one. Remove and let it cool down. Grind to a smooth paste using water and keep it aside.
Tempering the Pitlai
Heat oil, add mustard seeds, when it splutters, add fenugreek seeds, red chili, asafoetida, curry leaves. Saute well.

Now add tamarind extract and bring to a boil.

When the tamarind cooks for 5 to 7 mins on high, add the cooked bitter gourd and chana. Mix everything well.

Add the cooked toor dal, ground paste along with half a cup of water.

Cook for 3 to 4 mins on low flame until everything gets blended well.

Check for seasoning. Since salt is added at various stages, you will have to check if its enough.

Garnish with coriander leaves and serve hot with rice.
Notes
The gravy consistency is always thicker than sambar.
Since I was making it as more of a kootu, I made it very thick.
If you are like me and don't like bitter gourd because of the bitterness, you can soak the chopped ones with salt and leave it aside. I squeeze it out and then use it.
Some cook the bitter gourd in tamarind water or add jaggery. I don't do any of this.