Malai Sandesh is my choice for M in the A to Z Bengali Sweets Series. I had a huge list to choose for M, such as Malai Cham Cham, Malai Chop, Malai Toast, Malai Sandwich, Madhuja Sandesh. Mohini Sandesh, Makha Sandesh, Milk Cake Sandesh. Each is different or similar to some of the other Chhana based Bengali Sweets. When I had picked up to make this alphabet to make, it was almost the last week of August, and realized that my B was also not done. So I clubbed both together to make the Bhapa Sandesh first and saved some to make this Malai Sandesh.
So, in essence, the preparation is the same. You add the steamed Sandesh in a thick sweet creamy milk and serve it chilled with loads of chopped nuts. The steamed Sandesh would have soaked the milk and becomes spongy. I added half of the nuts ahead, for it to get soaked, some just while serving, so you will have both crunchy nuts added to the taste.
This is a steamed Sandesh version, that I have microwaved. In the Bengali Sweet Lists, there is a section of sweets called the Payesh, which is the same as the Payasam in the south. In this, the main base is a sweetened thick creamy milk. Today's recipe is the first of that series. I tried covering all the different categories that are made with chhana in Bengali Sweets. With this, we have crossed 15 days of Mega BM!
How to Make Soft Homemade Chhana for Bengali Sweets
How to Knead Chhana for Soft Bengali Sweets
A for Aam Sandesh
B for Bhapa Sandesh
C for Channar Puli
D for Danadar
E for Elixir Sandesh
F for Fruit Sandesh
G for Gajarer Sandesh
H for Hot Chocolate Sandesh Truffle
I for Ice Cream Sandesh
J for Jilapi
K for Khirkadam
L for Lyangcha
Step By Step Pictures for making soft Chhana for Bengali Sweets
Step by Step Pictures for kneading the chhana to a soft texture.
Step by Step Pictures for steaming/Microwave the sandesh
Step by Step Pictures for Making the Malai
Malai Sandesh | How to make Malai Sandesh
Ingredient Needed:
For the Sandesh
1 cup Paneer / Chhana / Cottage Cheese
1/2 cup Sugar (increase as per your taste)
2 tbsp Milk
A pinch of Cardamom Powder
Few strands of Saffron mixed in 2 tbsp Milk
For the Malai
2 cups Milk
1/2 cup Cream
1/2 cup Sugar
Other Ingredients
Mixed Nuts for garnish
How to make Malai Sandesh
For the Sandesh
First, make the soft Chhana required for making Sandesh.
Take one cup of well kneaded Chhana and start adding sugar and mix well.
You will end up having a soft and sweetish smelling chhana. Add cardamom and knead again.
Soak saffron in 2 tbsp milk.
If you are going to steam in a pressure cooker, you can grease with butter, pat this chhana over it and add milk along with saffron.
Cover the pan with aluminum foil.
Add 1 cup water to the pressure cooker, bring the vessel to a boil.
Then place the covered pan inside the pressure cooker and steam for 15 to 20 mins on medium heat.
I used the microwave and cooking in the microwave is very quick.
Grease a microwave-safe bowl, press down the chhana to 1 inch thick and sprinkle milk with saffron (save a few for later garnish).
Microwave for a minute. Wait and again microwave for another minute. The total time is only 2 mins. Steaming is done.
Let it sit at room temperature for 5 mins.
Cooldown the Sandesh. Take it out on a plate and cut it into small pieces. Keep aside.
For the Malai
In a heavy bottom, pan boil the milk, along with cream and sugar.
Cook on medium heat and keep stirring. Add a little cardamom powder. Cook the milk and cream mixture till reduced to 3/4th. Switch off the heat.
Add the cooked and cubed Sandesh. Garnish with finely chopped nuts along with some soaked saffron
Refrigerate and let it stand for 1-2 hrs.
Serve cold.
Notes
If you want to save time in making the Malai, you can use Condensed Milk instead too.
Recipe
Malai Sandesh | How to make Malai Sandesh
Notes
If you want to save time in making the Malai, you can use Condensed Milk instead too.
This is part of the A to Z Protein-Rich dishes, where I decided to showcase A to Z Bengali Sweets with Paneer/Chhana as the main source.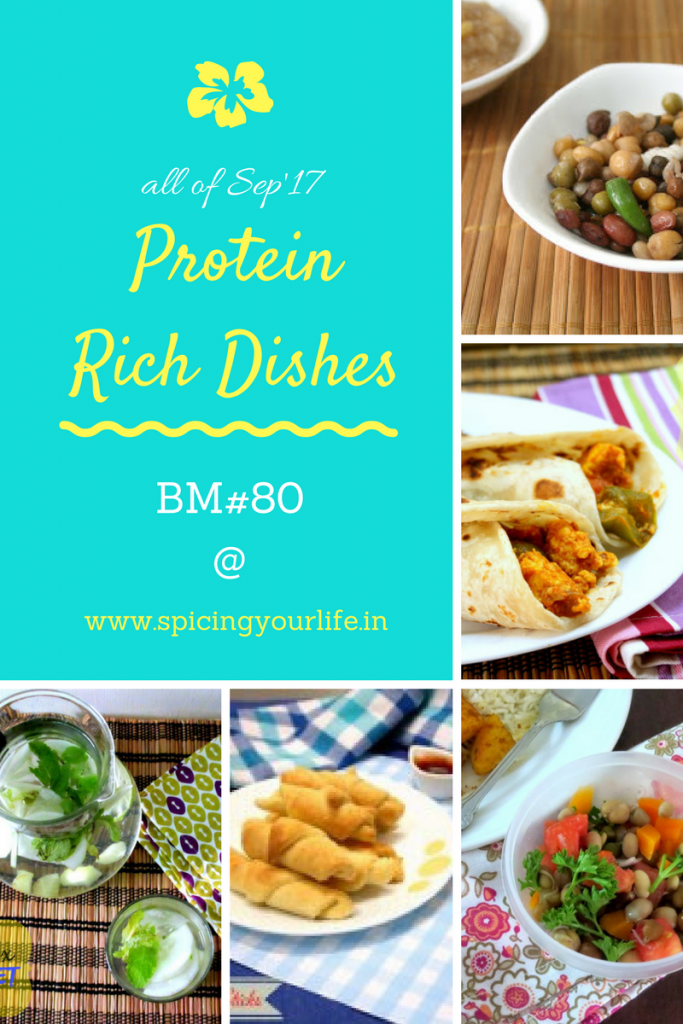 [inlinkz_linkup id=725581 mode=1]