Alasandalu Vada or Black-Eyed Pea Fritters is a popular snack from Andhra and is made with Black-eyed pea. This is a deep-fried fritter and tastes excellent.
Alasandalu or Black-eyed pea is a popular bean in Andhra and we use it in various forms. This bean is popular in other parts of India as well. Furthermore, my grandparents used to grow this in our fields and we grew up eating fresh beans during the season.
Most noteworthy of all, I can still so vividly remember my grandma's Alasandalu Kura that was simply out of the world. We do make this still when we get the fresh beans.
The black-eyed pea is Lobia in Hindi, Vella Payar or Thatta Payaru in Tamil, Alsande is Konkani. Similarly, in Tamil Nadu, we use the tender beans as a vegetable Tamil Nadu, though it is left to mature for the beans in Andhra. We are very fond of Karamani Poriyal.
Some favorite dishes with Black-eyed Peas
First of all, we make different recipes of vadas like the traditional Andhra style Alasanada Vada, Bobbarlu Vada, Alasandalu Carrot Vada, Thatta Payaru Vadai, Alasandalu Bonda.
Some gravy dishes like Pulusu, Gongura Alasandalu Pappu, and Alsande Tonak. We also make sweets like Alasanda Bellam Kudumulu, Alasanda Bobbatlu
So having already shared so many different dishes, you may wonder what's new with today's recipe! Well, these vadas are made with dried beans that are soaked, dried and their outer skin removed. In Telugu, we call it pottutheesina (deskinned) alasandalu. We haven't seen this in Madras or other places. We have always got it from our native place.
Since my aunt got us a huge batch, we made the vada frequently and that's why you would be seeing this vada featured in some of the thalis.
We are starting the final week of our BM Mega Marathon themed on Thalis and Platters and for the last week, it is going to be Simple everyday Thalis that we cook for lunch.
We mostly follow the pattern of making Sambar, Dal, Kozhamu, or Pulusu on weekdays. Until a couple of years ago, Rasam was always made daily. Since my boys have started eating Sambar, I don't make it when Sambar is on the menu.
I will be sharing some of our regular lunch menus on both sites. On C4AS, it's another lunch menu that is easy to make.
Lobia Masala Curry or Alasanda Masala Kura is another dish you can try!
Thalis & Platters
Week 1 - Platters for Kids
Pyjama Party for Day 1
Sandwich Platter for Day 2
Fusion Platter for Day 3
Pizza Party for Day 4
Week 2 - Thalis featuring Regional Cuisines - Veg Thalis
Dussehra Festival Thali for Day 1
Summer Special South Indian Vegetarian Menu for Day 2
Vegetarian Thali Menu List for Day 3
Gummadikaya Pulusu ~ Vegetarian Lunch Thali for Day 4
Varalakshmi Vratham Festival Thali for Day 5
Weekend Party Vegetarian Thali Menu for Day 6
Week 3 - Thalis featuring Indian Flatbreads
Bajra Methi ki Poori aur Sabji Thali for Day 1
Punjabi Bedmi Puri Nasta Thali for Day 2
Besan Ki Poori aur Sabzi Nasta Thali for Day 3
Rajasthani Bhedawi Puri aur Sabzi Thali for Day 4
Bhujia Paratha Menu for Day 5
Bikaneri Papad Ka Paratha Menu for Day 6
Week 4 - Thalis featuring Street Food of India
Banarasi Street food for Day 1
Delhi Street Food for Day 2
Haridwar Street Food for Day 3
Kolkata Street Food for Day 4
Mumbai Street Food for Day 5
Surati Street Food for Day 6
PIN This for Later!
Ingredients used to make Alasandalu Vada
Dried black-eyed peas are soaked and ground to a batter with spics to make this deep fried snack.
You can soak in batches and stock this fridge.

Alasandalu Vada | How to make Black-Eyed Pea Fritters
Alasandalu Vada or Black-Eyed Pea Fritters is a popular snack from Andhra and is made with Black-eyed pea. This is a deep fried fritter and tastes excellent.
Servings
15
medium numbers
Ingredients
1

cup

Black Eyed Peas

/ Alasandalu

1

tsp

Cumin seeds

Salt to taste

1

cup

Onions

finely chopped

2

no

Green Chilies

finely chopped

1

no

Dry Red Chili

Handful

Coriander leaves

Handful

Curry leaves

4 to 5

Garlic

pounded

1

inch

Ginger

pounded

Cooking Oil

for deep frying.
Instructions
Wash and soak the black-eyed peas overnight. It requires at least a minimum of 6 to 7 hours soaking.

When ready to grind, drain the water and take a handful in a mixer along with red chili and salt.

Grind almost to a coarse paste just before the smooth paste stage. Remember the batter should not very smooth.

Save about 2 tbsp of soaked peas and add the rest of the peas to the mixer and grind again.

Transfer to a bowl and add finely chopped onions, coriander leaves, curry leaves, remaining green chilies, saved peas, and well pounded garlic and ginger.

Make sure you crush the garlic and ginger well.

Mix everything well and heat the Kadai with oil.

When the oil is hot, take a lemon size ball, grease your left palm or a sheet on which you can pat it down.

Flatten to a small disc of about 2 inch diameter, and immediately slide it into the hot oil.

Cook on a medium flame for the vadas to be cooked through.

Cook on both sides and drain it using a slotted ladle to a kitchen towel.

Serve hot.
Simple Lunch Thali
Alasandalu Vada
Vegetable Brinji
Brinjal Curry
Drumstick Sambar
Steamed Rice
Curds
Gulab Jamun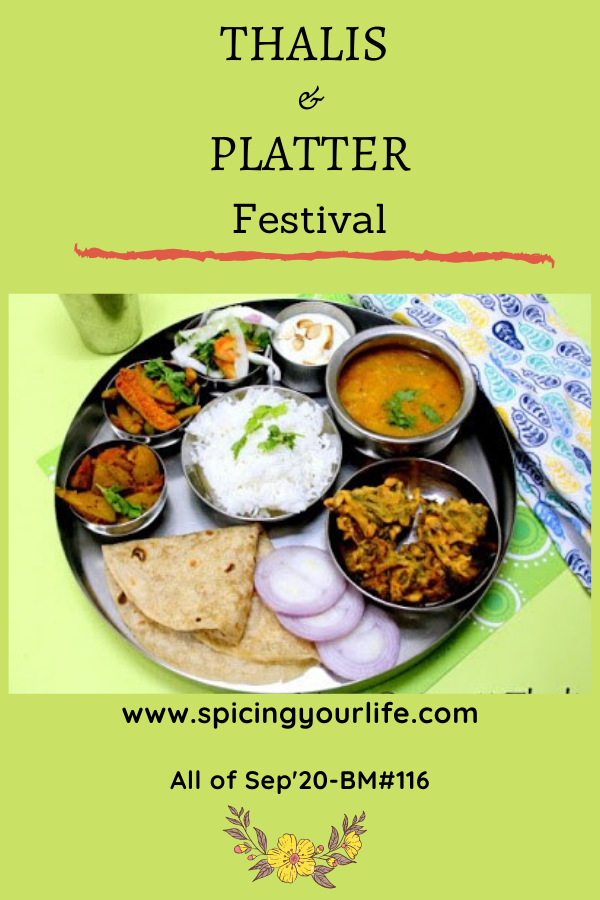 You are invited to the Inlinkz link party!